by Virgo Handojo
My childhood was filled with the traditions and rites of Chinese culture, which are still deeply rooted in my heart. Unfortunately, those beautiful memories did not last long. Changes in political policy in Indonesia at that time prohibited the development of Chinese traditions. Even so, Chinese teachings and traditions still leave an imprint on my mind.
Junior high is the second place where I learned of God. I was educated in a Catholic school. Here I learned that attending mass at church is more important than knowing God or learning from the Bible. When I was in junior high school, I attended catechism for one year to be baptized as a Catholic.
Monday afternoon, March 5, 1979, was an extraordinary day in my life. God touched my life. Tiong Gie, my hometown friend and childhood friend, invited me to a prayer meeting where I experienced a new birth. It is difficult to describe in words, but I have felt the touch of the Divine hand. Since then, I have started to learn to hear and obey God's voice and live with Him.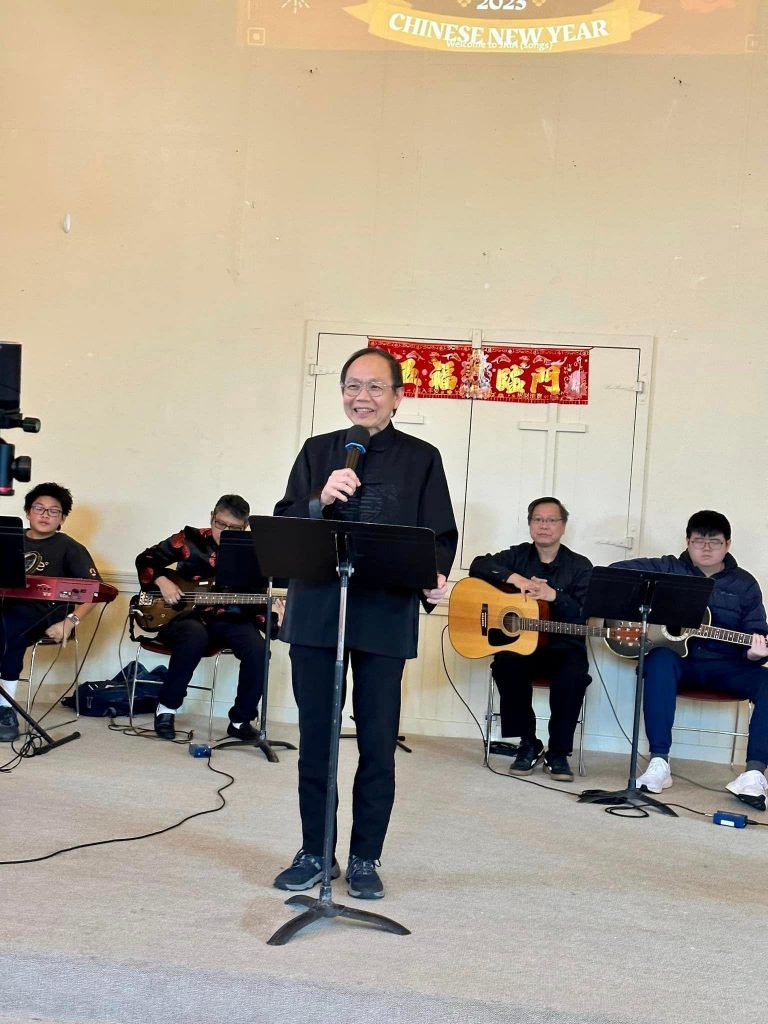 Meanwhile God began to expand my ministry and relationships with other Christians. Through the Sangkakala family led by Mr. Adi Sutanto with a prayer meeting in Semarang, God began to train my life, together with young people my age. We took turns preaching, becoming traveling evangelists to other villages and cities. Through a network of families, jobs, schools, and the services of the Sangakakala foundation, this spiritual movement and its prayer groups have spread to other cities.
Through these services I grew both spiritually and in ministry experience. At that time, we also started to plant churches, both in villages and cities, at home and abroad. Through this youth movement, many mission foundations, synods, and new churches have sprung up, both at home and abroad.
I was involved in the pioneering of the Indonesian Christian Congregation Synod (JKI Synod), which is theologically affiliated with the Charismatic Anabaptist movement. In 1986 I was ordained and served at the Maranatha Indonesian Christian Congregation church, Ungaran. Together with the JKI synod, we started the Maranatha Bible School, which became the seed of Sangkakala High School, Salatiga.
In 1987, with just $65, I landed in Los Angeles to study at Fuller Theological Seminary. By God's grace, I managed to complete three master's degrees in the fields of Intercultural Studies, Theology, and Leadership, and in 2000 a Ph.D. in Marriage and Family Studies from the School of Psychology. In 1989 God brought me and my wife to Mrs. Dina Boon from the city of Sierra Madre, CA. We were asked to clean Mrs. Dina Boon's house from dark powers.
Through this ministry, the International House Fellowship was born in Dina Boon's house. At the end of 1990 this family association grew to 30-50 people from 10-13 different nationalities. Through this partnership, the Anugerah Indonesian Christian Congregation (JKIA) was born on September 19, 1992, at the Free Methodist Church, Pasadena. The first services began on Sunday, September 20, 1992. A few months later the church moved to Sierra Madre Congregational Church in Sierra Madre, CA.
At the San Jose Mennonite General Assembly (July 4, 2007), JKIA, along with two Indonesian Mennonite churches in Los Angeles and the Philadelphia Praise Center (PPC), established the Indonesian Mennonite Association (IMA). Today IMA is a member of the Racial Ethnic Council of the Mennonite Church USA. Truly, God exists, is miraculous, and really loves us all. Amen.