Mosaic Conference distributes announcements submitted by our Conference churches, Conference-related ministries and denomination-wide ministries for churches to run in their weekly bulletin.
If you have a bulletin announcement you would like us to distribute, please submit it to office@MosaicMennonites.org in 75 words or less. We reserve the right to edit for length, content and clarity.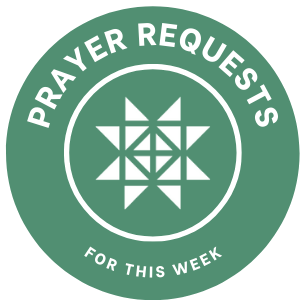 THIS WEEK'S PRAYER REQUEST:
This week, all Mosaic congregations are invited to pray for Pastor Jenny Fujita and Upper Milford Mennonite Church in Zionsville, PA. Jenny Fujita began this month as their pastor. Please pray for this time of transition and opportunity.
(Posted: January 19) If anyone if interested or has a use for them, Deep Run West Mennonite Church has an abundance of the following items: quilting supplies, material, fiber filling/batting, thread, rulers, frames/stands/clamps, marking chalk/wax and patterns. Please contact the church office if interested at 215-766-8157 or deeprunwest@verizon.net.

(Posted: January 18) Summer Peacebuilding Institute at Eastern Mennonite University will be returning to in-person courses this May and June. For information about the Summer Peacebuilding Institute, including costs, courses, lodging, and scholarship opportunities, visit emu.edu/spi.

(Posted: January 13) Mennonite Disaster Service is providing financial and service support for renovations at the Reservoir Hill House of Peace, a ministry of North Baltimore Mennonite Church, which provides housing for asylum seekers. Volunteers are welcome to join NBMC for any or all days of February 28-March 4. They're looking for skilled construction workers as well as just some helping hands, and housing will be provided for those staying for more than one day.  Email ruthkclemens@gmail.com to indicate your availability.

(Posted: January 11) Ain't Gonna Study War No More: An evening event with Osheta Moore will be held Thursday March 3, 6:30 to 8:30 pm both online & in person at Lancaster Mennonite School Fine Arts Center. This evening will examine ways we've been formed to think of racial justice work as what we're against when a better way is to think of what we are for: shalom and God's dream of restoration. Free tickets are available at tinyurl.com/y4fw578v.

(Posted: January 10) A rewarding career begins at Peaceful Living. Join a team whose mission is to create belonging for people with intellectual and developmental disabilities. From Direct Support Professionals to Day Program Manager here, everyone matters. Please contact Jane at jrogers@peacefulliving.org or visit peacefulliving.org/careers to apply.

(Posted: January 5) Deep Run East Preschool is looking for a certified Preschool Lead Teacher for a part-time position starting in the 2022-2023 school year. Anyone interested can contact the preschool director Kristen Yoder at kyoder@deepruneast.org.  To learn more about the preschool, visit www.deepruneast.org.

(Posted: January 5) Join Spruce Lake's full-time ministry team committed to excellence and pointing people toward Christ by ensuring that guests receive a positive, clean, safe experience as you oversee housekeeping and custodial teams, recreational and meeting facilities, audiovisual equipment. Candidate must have excellent communication and management skills. View the entire job description and application at sprucelake.org/about/employment.

(Posted: December 21) Help Care & Share Thrift Shoppes keep our neighbors warm!  They currently have few coats, and many customers and non-profits are needing them.  Drop off your gently used, clean, winter wear, Monday to Saturday, 10:00 am to 5:00 pm.  Children's coats are especially needed!