Mosaic Conference distributes announcements submitted by our Conference churches, Conference-related ministries and denomination-wide ministries for churches to run in their weekly bulletin.
If you have a bulletin announcement you would like us to distribute, please submit it to office@MosaicMennonites.org in 75 words or less. We reserve the right to edit for length, content and clarity.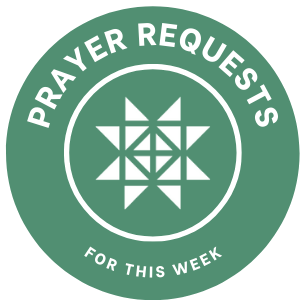 THIS WEEK'S PRAYER REQUEST:
All Mosaic congregations are invited to pray for the delegates who will be traveling to Kansas City this week to participate in Mennonite Church USA's Special Assembly (May 27-30). Pray specifically for Aldo Siahaan, Mosaic Leadership Minister, who will be one of the featured speakers, as well as the other delegates from Mosaic Conference and Mosaic congregations. We pray that the Holy Spirit will pour wisdom, peace, and compassion on all involved.  
(Posted: May 20) Mennonite Disaster Service (MDS) has volunteer opportunities available as they work on a house in Darby, PA. There are some daily opportunities to serve and the work varies. MDS is also working in Crisfield, MD which could allow volunteers to spend several days. Please contact Dale Mack, 215-534-8833 for additional information.
(Posted: May 18) Hilltop Preschool, a ministry of Line Lexington Mennonite Church, has an opening for a 3-day head teacher in the fall.  This is a part-time position in a great work atmosphere, with the opportunity to share the love of Christ with young children.  Contact Alicia Hunsberger, Children's Ministry Director, at ahunsberger@llmc.org for job details. 
(Posted: May 18) Nueva Vida Norristown New Life is seeking a bilingual church secretary to manage the church office. The position is part-time up to 25 hours/week. Interested persons should contact Pastor Ertell Whigham, ertellmw@gmail.com or Jim Williams, microbiz1625@gmail.com.
(Posted: May 16) MCC (Mennonite Central Committee) is planning an immediate shipment of emergency supplies to Ukraine. There is an increased demand for supplies to send to Ukraine and other countries around the world, and their inventory of material resources is getting low. They are looking for donations of comforters, soap and towels as well as dignity & hygiene items, infant care, school supplies and sewing kits. Donations may be dropped off at MCC Material Resource Center in Harleysville; their hours are Monday to Thursday, 9:00 am-3:00 pm, and Friday, 9:00 am-1:00 pm.
(Posted: May 16) A Pancake Breakfast will be held at Bally Mennonite Church on June 11, from 7:00 to 11:00 am.  Donations will support the Ukraine Refugee Relief Effort, and the meal will include pancakes & french toast, eggs, scrapple & sausage, juices, coffee and tea. If you have questions, call 610-845-7780.
(Posted: May 16) The 14th Annual Golf Outing for Healthy Niños Honduras will be held Friday, June 10 at Butter Valley Golf Port with a shotgun start at 7:30 am. Lunch and snacks will be provided, as well as a chance for various prizes. Registration is now available online at healthyninos.org/golf-outing, but the deadline to register is June 3. 
(Posted: May 16) Quakertown Christian School is looking for licensed CDL Bus endorsement people who would be willing to drive their 2018 Bluebird for various school-related activities, including class field trips during the day and athletic events in the afternoon/evening.  This position would be "as needed" with appropriate notice given, and candidates will need to provide clearances and a copy of their driver's license.  Please call the school office if interested: 215-536-6970.
(Posted: May 2) The following summer camps will be offered by Souderton Mennonite Church in 2022:
*CREATIVE MOVEMENT CAMPS – June 14-16, 9:00 – 11:00 am (ages 3 – through completed Kindergarten) and July 11-15, 9:00 – 12:00 pm (for children who have completed 1st – 5th grades)

*SPORTS CAMP – June 27-30, 6:00 – 8:00 pm (for children who have completed 1st – 5th grades)
*KID CONNECTIONS CAMP – August 2-4, 6-8pm

Contact Sarah Scorzetti at sscorzetti@soudertonmennonite.org to learn more.