This article is translated to English by Andrés Castillo. Original article appears in Mosaic News En Español: Danilo Sánchez Asando Carne y Construyendo Puente por Javier Marquez
Carta to Julia Series, Letter #2
Dear Julia,
Today marks two months since I first wrote to you. I remember that it was a cold night. These days I've been taking it quite easy, nesting airs of rest that arrived at their end just recently.
I now find myself in Allentown, PA for a few days. It's the same city that I talked to you about when I met with you before—the one where the trees can be heard clearly, where people live at a calm rhythm, waiting for Sunday BBQs when families go to their backyards and fill the air with sound. It's an unbeatable opportunity to take note of cultural differences.
As I told you then, I stayed there for some time in spring, and I found out firsthand that the weather changes in the midst of soft silences. I also got to live on the third floor in the house of the Sánchez family, the most harmonious family I've been with.
The purpose of this letter is just to tell you about Danilo. We met up to talk in a café called Barista Café, a store that specializes in Colombian coffees and Italian pastas. In the first section of the store was a coffee shop space, with sparkling clean machinery and utensils. In the other section there were a few tables, as well as stands set up with Italian pasta and Colombian coffee for sale by the pound. The store was dominated by a calm, European-style, touristic atmosphere. This was because Álvaro, the owner, kept slideshows of pictures of Italy, France, Russia, Spain, and Portugal projected on a screen hanging in the coffee shop wing (although one day I saw a slideshow of Tokyo). He accompanied these slideshows with calm, warm-hearted music. It was here that I was able to interview Danilo about his life and ministry.
A Calm Space for People Living on the Streets
Today, Danilo Sánchez is one of the pastors of Ripple Mennonite Church (Allentown, PA), and works in the Ripple Community Inc (RCI) Center, where a peaceful space is provided for those who live on the streets. They come to share a table together, to eat, play, and converse. To me, Danilo has always seemed like a calm person with peaceful habits, but with the vigor of youth on his shoulders. He has the facial expression of someone who has lived many years in front of a nighttime campfire, molding his personality—a life in front of a crackling fire.
Danilo Can Barely Make Coffee in the Morning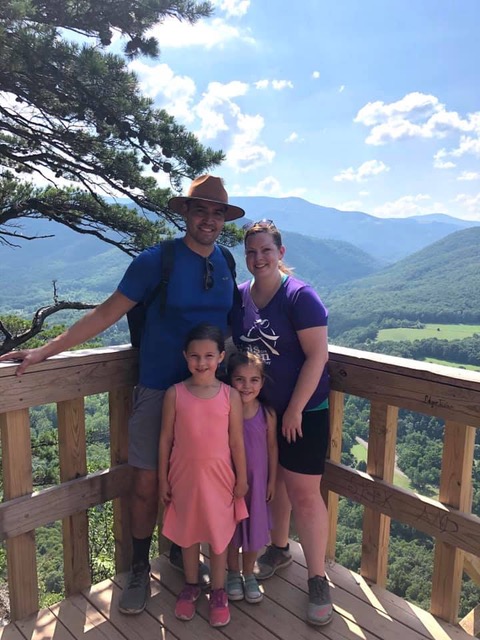 At the BBQs Danilo has with his wife Mary and his two daughters, Emilia and Evie, one thing always happens disguised as a tragedy that is really evidence of the purposes of their home—nothing more than love's purposes. Mary enters the kitchen to bring the potatoes, kebabs, chicken, salad, lemonade, and beer out to the table. The children bring out the condiments. Danilo's job is grilling the meat, which always arrives at the table roasted in a way that makes it seem like coal dust was smeared on one side—and everyone eats it like that. Mary is a versatile cook, talented in the art of experimentation, but Danilo can barely make his own coffee in the morning. However, the rule is that everyone cooks, everyone works together. Eating that blackened meat is an exercise in home team spirit, and at the same time, a message for their daughters.
With this, something is left very clear: Danilo's passion may not be cooking, but rather, family. He is also very passionate about young people, and that's what we talked about. Julia, here I leave you the notes from my interview:
Me: I remember very well the way young people used to come to your house, and how you'd tend to them in your living room. You just sat on the sofa and conversed with them, and once you even told me that many of them had no home and were looking for a place to sleep. When did this passion for youth start?
Danilo: it all started when I was in high school. I was interested because of something that I'd heard from my teachers about theological reflection. I liked to think about deep ideas concerning the teaching of the Bible. Partly for that reason, I also became interested in getting involved with my local church. I helped with studies and with worship. Everything started then. One time my local church in Boyertown invited me to preach for the youth there, and with time I became youth leader. One afternoon, one of the adults from the church came up to me and told me: "I see that the youth here respect you, and I see in you the joy that being with them brings you. Why not consider being a youth pastor?" For me this was a totally new idea.
Later, I would go to a university. After a few years, I started to take some classes about youth and pastorship. I seriously loved it. I felt at home, and found out that it was the ideal space to apply my talents.
Me: Your ministry is special because the people in your church are from different origins. What's special about working in an intercultural space when, for example, there are differences in foci, different understandings of Christian ethics that tend to be small, but—when poorly managed—can become serious problems?
Danilo: My work has consisted of connecting people from different cultural backgrounds. My family is the same—my dad is Peruvian, and my mom is from the United States. What that means is that I grew up between two cultures—white and Latino. I think that it's a special blessing. For example, worshipping God in different ways, as is common when there's an intercultural community, is a source of riches to me. Just think about food. When everyone shares food, we make others happy, but at the same time we feel included at the table.
Me: It's true, food has that element of remembrance. It's a characteristic that connects us easily with our childhood, with the people who we belong to, and with our native lands.
Danilo: Yes, and it's a clear demonstration of the beauty in the differences. We want to celebrate them. But it's not always like that. For the same reasons we can embrace what's different, we can also repel it. The same curiosity that attracts us to new things can make us not want it, and that also has to do with our cultures. There are things that, for some, are things of taste, and something else for others. What for me is inoffensive can be dangerous for others. The key has always been to listen a lot, to be very attentive to others. For that reason I know that intercultural ministry takes time. It's not appropriate to try to make anyone do anything. Imposing things on people isn't important. My desire is to build bridges between cultures at the same time that we build bridges toward the Kingdom of God.
It's important to know that everyone has a story, a past, his or her own keys to interpret life, and his or her own application of colors. That too, takes time. It's also important to be able to speak everyone's language, and that people see leaders of an origin close to theirs. That's what we want to do with Indonesian, Latino, African-American, and white leaders, and all of the other cultural families in our churches. It's important that people feel that they have a place at the table.
Me: It's certainly hard as well when you have to face sensitive differences in the church, like the leadership of a woman could be, and points of view about sexual life and other subjects whose visions vary with culture.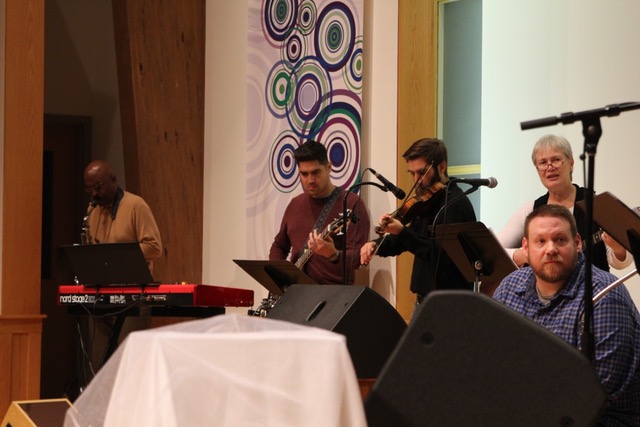 Danilo: Yes, that happens. Whenever I'm planning a service or a retreat, I recognize that one must be careful. However, sometimes one must also be bold and push people a bit, especially concerning the issue of gender equality. But I can't tell you that things are one way and later another—there's no specific path. Rather, it's a sum of paths, none being necessarily easy. I'll say it again: we must insist on listening to people and following the guidance of the Holy Spirit.
But in this time I've learned a lot. That excites me. I've seen how immense the world is, and that there are many ways to feel God and live His way. Seeing how God grows in people full of colors and flavors is incredible. When we're all together, the photo of God's Kingdom is clearer.
(…)
Dear Julia, those were the words of Danilo. I want to end this card here, but please take care. I found out from Marlon that you've been weak health-wise. I hope you get better and regain your strength.
With care,
El curioso inoportuno (the "curious inopportune")
The opinions expressed in articles posted on Mosaic's website are those of the author and may not reflect the official policy of Mosaic Conference. Mosaic is a large conference, crossing ethnicities, geographies, generations, theologies, and politics. Each person can only speak for themselves; no one can represent "the conference." May God give us the grace to hear what the Spirit is speaking to us through people with whom we disagree and the humility and courage to love one another even when those disagreements can't be bridged.
This post is also available in: Español (Spanish)
This post is also available in: Español (Spanish)