by Melky Tirtasaputra, Whitehall (Allentown, PA) congregation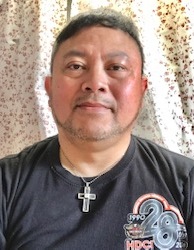 I grew up with one older brother and two younger sisters, all with various religious beliefs. My grandmother was a mystic from Banten (Indonesia) and converted to Christianity. My mom only believed in God and my father was an animist. My brother attended a Catholic school since kindergarten, while my two other sisters went to a Christian school. I used to lived in a Buddhist temple, learned mysticism, and went to a Muslim school where I learned how to pray and follow the Muslim lifestyle. I searched for my religious identity.
God's purpose for my life started in 6th grade. The way God called me was amazing. At an early age, I was an independent child who sold goods to make money. I was fascinated by money. A friend invited me to go to church. Every time I walked to church, I found money on the street. God "provoked" me through money.
On April 24, 1981 (Good Friday), I was baptized. Since that day, I became more and more interested in serving God and always longed to go to church, until I was almost kicked out of my home. God changed my life not only to be His servant, but also by helping my parents see the changes in my life. Finally, my parents became believers and were baptized. On Pentecost my entire family went to church together.
When I was 16 years old, I felt a strong calling from God for me to be more engaged in the Bible so I took an online course while I also studied psychology. For three years, I took Bible classes at night and then started to preach at our church.
Through the years, earning money came very easily for me. It caused me to almost forget what my calling was, even though I was a high school religion teacher.
One day I met a girl who has now become my wife. She saw my potential and God's calling on me as His servant. This is why she wanted to marry me. However, I ignored that calling because I wanted to be a businessman who could also serve God.
In 2001, we moved to the USA and lived in Philadelphia. We started a new life, working at the factory. Every Sunday I attended church services and sometimes served as a singer.
In 2005, we joined Philadelphia Praise Center (Philadelphia, PA) and served together with Aldo Siahaan as Head Elders.
In 2007, I pursued an opportunity to start a business with FedEx as an Independent Contractor, while still serving as an Elder at Philadelphia Praise Center. In 2010, I moved to Nations Worship Center (Philadelphia, PA) to assist Pastor Beny Krisbianto and the congregation, who had just joined Franconia Conference. My duties were to serve as an elder and head of the church construction, while my wife was in charge of the church's finances.
In 2015 I began taking pastoral ministry classes at Eastern Mennonite University, graduating in 2018. In October 2019, I responded to God's calling as a pastor at Whitehall Mennonite Church (Allentown, PA), joining Pastor Rose Bender.
It turns out I enjoy my calling as a pastor. I thank God for His faithfulness and love as God waits for my response to His calling. Thanks to my wife who always supports me and never gives up either. Thank you to EMU and to Mosaic Mennonite Conference who helped me fulfill my calling.
This post is also available in: Indonesia (Indonesian)