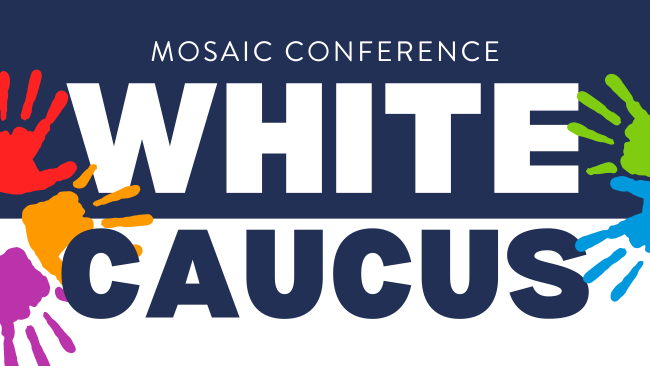 The Mosaic Intercultural Committee is starting a White Caucus for active, inactive, and retired White credentialed leaders. A White Caucus is a dedicated space for White people to talk openly about Whiteness, White privilege, and White supremacy culture. The purpose is to counsel one another on how to live into more mutually transformative relationships across racial, ethnic, and cultural differences. As followers of Jesus, we desire to share in Peter's declaration in Acts 10 when he was changed through his encounter with God and the Gentile Cornelius "that God doesn't show partiality to one group of people over another…He is Lord of all!"
The first Mosaic White Caucus will be Sunday, July 30 from 5:00 – 7:00 pm. The group will meet in the fellowship hall at Salford Mennonite Church for a potluck meal and a group discussion. Salford Mennonite Church is located at 480 Groff Mill Road, Harleysville, PA. KrisAnne Swartley (Doylestown) and Jordan Luther (Methacton) will serve as facilitators.
Here are some Frequently Asked Questions (FAQs) to help you learn more about the White Caucus and what to expect:
What is a caucus? A group of people coming together around a specific topic/issue, for discussion and counsel. Our topic is White culture. It is a place of healthy accountability rather than a place of blame or shame. It may even be fun! This caucus is an extension of the Mosaic Intercultural Committee's work. In intercultural relationships, we periodically meet within our culture so that we are equipped to better relate to others outside of our culture. Caucusing is one tool we have, among many, for deepening our relationships both within and beyond our cultural background.
Why a White caucus as opposed to a diverse group? It provides a place where White people hold one another accountable for their own responsibility to organize and take action as they are willing and able. It frees people of color from the burden of educating and helping White people to learn and grow in the areas of anti-racism and mutual transformation. People of color are always welcome to come and observe and offer observations after the meeting.
What will happen at a meeting? We will build relationships of joy and trust by meeting regularly (every 6 weeks to start). We will center our anti-racism and mutual transformation in our Christian spirituality and discipleship. We will reflect on what we want to learn about anti-racism and ways we desire to practice it. We will learn and grow as we share openly our successes and shortcomings from our everyday intercultural relationships.
What will the meetings be like? We will begin with food and games, pot-luck style, during the first hour. At the beginning of the second hour, we will gather with a simple centering practice, followed by reflective sharing around our anti-racism theme. We will close the second hour with prayer and singing.
For questions or more information regarding the White Caucus, please contact Danilo Sanchez, Mosaic Leadership Minister for Intercultural Transformation.
The opinions expressed in articles posted on Mosaic's website are those of the author and may not reflect the official policy of Mosaic Conference. Mosaic is a large conference, crossing ethnicities, geographies, generations, theologies, and politics. Each person can only speak for themselves; no one can represent "the conference." May God give us the grace to hear what the Spirit is speaking to us through people with whom we disagree and the humility and courage to love one another even when those disagreements can't be bridged.