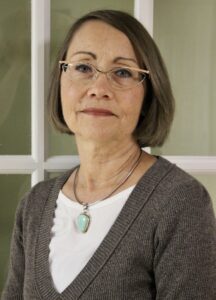 The Mennonite Church USA (MC USA) Executive Board has nominated Marty Lehman of Goshen, Indiana, as moderator-elect for the Delegate Assembly cycle beginning July 2023. Lehman is a former associate executive director for Churchwide Operations for MC USA and has a deep affiliation with and affection for the denomination.
"I love our church and believe in what our church is doing and trying to do," said Lehman. She said she hopes that we can "be known as people that are reaching out and caring for the most vulnerable in [our] communities … people that show up … people who serve as the hands and feet of Jesus, so that God's healing and hope can flow through us to the world."
Pending affirmation by the Delegate Assembly, which will meet in Kansas City, Missouri, on July 7-8, 2023, Lehman will serve alongside incoming moderator, Jon Carlson of Lancaster, Pennsylvania.
To read more, please see the full article.