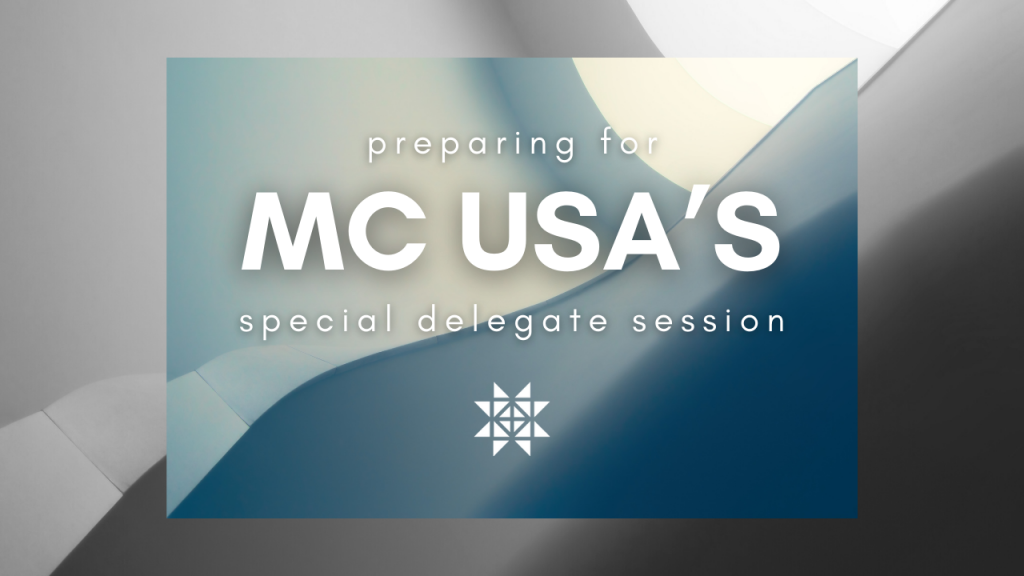 On May 27-30, 2022, Mennonite Church USA (MCUSA) will hold a Special Session of the Delegate Assembly in Kansas City, MO. Each Mosaic congregation is eligible to send delegates to this important meeting in the life of our community and witness together.   
Mennonite Church USA is providing background resources and hosting a series of educational webinars (see below) to prepare delegates and their conferences / congregations for the Special Session of the Delegate Assembly in May.
Mosaic Conference will also be offering preparation work to help resources delegates and pastors in the months ahead.  The resources are intended to help prepare delegates for the upcoming discernment and voting that is planned for this special session.   
Upcoming January webinars:
Monday, Jan. 24, 2022 07:00 PM (EST): The development of resolutions, especially church statements, must seek to follow our ecclesiology. We believe the church exists at the congregational, area conference and national conference levels. While each person is responsible for developing and maintaining a personal relationship with Jesus Christ, our understandings of the revelation of Jesus Christ and the Holy Spirit are refined and tested by the community of believers on the three levels of our church. This seminar will explore the current role resolutions play in MC USA and hope we might shape the resolution process in the future. 
Monday, Jan. 31, 2022 07:00 PM (EST): Join MC USA's Iris de Leon Hartshorn (facilitator) and panelists Jamie Pitts of AMBS, Pastor Isaac Villegas of Chapel Hill (North Carolina) Mennonite Fellowship and Shana Peachey Boshart of Mennonite Education Agency for an engaging discussion on biblical discernment. In this one-hour webinar, the panel will address three key topics:
Biblical and historical understanding of discernment
Congregational experiences with discernment
Best practices for discernment 
All webinars will be recorded and available on the MC USA delegate resource page. Please visit the delegate resource page for the full schedule and additional information.