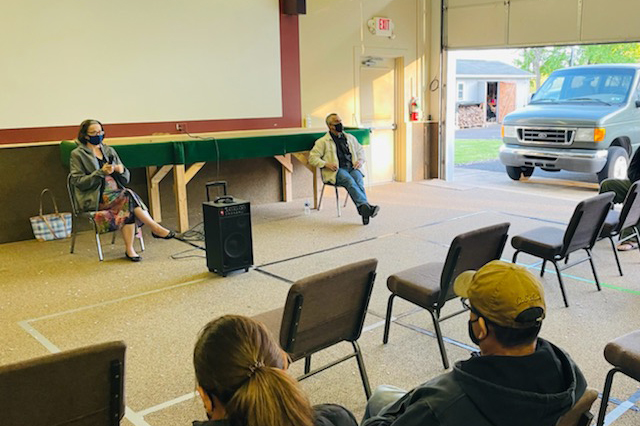 Attending Mosaic's equipping event, Identifying Red Flags, on Friday, April 30 was a priceless opportunity for youth leaders. We received wisdom from two professionals, John Drescher-Lehman and Dr. MaryLynne Black, to prepare us for future situations and circumstances that we may face as youth leaders. I offer to you my learnings from the event.
Trauma is anything that is life-threatening. We all attempt to avoid, deny, and treat trauma. We do not want to be reminded of it. Trauma causes a loss of connection to who we are, to our families, to our bodies, and to the world around us. (See John Drescher-Lehman's article for a further description of trauma.)
At some point, all of us will experience trauma of some degree. Unfortunately, youth sometimes experience far more trauma than their leaders ever will experience. Even more disheartening, sometimes the leaders are the ones causing the trauma – knowingly or not. Yet, it is the leader's responsibility to help lead others out of trauma. But without the right set of knowledge, such as what was highlighted at the equipping event, leaders will not be able to initiate healing.
Trauma oftentimes takes the form of abuse. Most youth will not speak up about abuse for several reasons: feelings of not being believed, denial, fear of consequences, shame, and discomfort of the topic. In order to help others recover from trauma, we must listen and comfort those who have "stories of their stories." The priority is to ask the survivor about their needs, rather than imparting our biased reaction and interpretation. We must also know the available resources in the community to offer victims.
"The priority is to ask the survivor about their needs, rather than imparting our biased reaction and interpretation."
Interacting with youth around the issue of abuse requires that I as a leader focus not only on the safety of others, but also my own safety. I need to be clear that I am the adult. I am the person who represents the Kingdom of God. I am the leader. I therefore need to let my actions reflect this reality. I cannot put myself in situations that put me at risk.
To keep others safe, I need to have an accountability team in place for when red flag situations occur. Having systems in place that incorporate neutral points of view and provide a space that the child is comfortable with sharing is a must.
Within this system, the most important thing is to hear the person out with nonjudgement and curiosity. I need to ask more about what is going on because often children or youth will come with a story that does not make sense. Sometimes the most unbelievable stories are the ones that actually happen, so I need to ensure I give him/her the benefit of the doubt.
True leadership is not stagnant. Leaders lead from whichever situation or circumstance surrounds them. As leaders, we must ensure we are equipped for unthinkable situations that can arise when working with youth. We also need to know how to respond appropriately, in order to lead persons out of trauma, rather than leaving them to suffer further in their trauma.
The opinions expressed in articles posted on Mosaic's website are those of the author and may not reflect the official policy of Mosaic Conference. Mosaic is a large conference, crossing ethnicities, geographies, generations, theologies, and politics. Each person can only speak for themselves; no one can represent "the conference." May God give us the grace to hear what the Spirit is speaking to us through people with whom we disagree and the humility and courage to love one another even when those disagreements can't be bridged.