I was born in Indonesia to a very "pastoral" family. My grandfather, dad, and aunts were all pastors. I am the second child of four. I am grateful that my parents introduced me to Christianity from early childhood.
Our house was next to the church building when I grew up. Because of that, I rarely missed any church activity. Beginning in seventh grade, I was involved in the Sunday School ministry. From there, I was active in music ministry.
I never had formal education in music, but found my passion in it. I taught myself to play instruments. I wanted to take what I loved to do (music) and use it to minister to others. After high school, I decided to major in church music at a Christian university in Yogyakarta.
After graduating from university in 1997, I ministered in a church in Jakarta. Periodically, I also ministered in my hometown.
During this period of time, I met an Indonesian who lived in the US. He often ministered in Indonesia and was a member of JKI Anugerah – Grace International Fellowship Church (JKIA) in Sierra Madre, CA. In short, he invited me to come to the United States and sponsored me to attend Calvary Chapel Bible College.
It was a long process before I could come to the United States. My visa application was rejected three times. Finally, in 2000, my student visa was granted. JKIA was the first church I attended in the USA and still is my church.
Even though I grew up surrounded by many pastors and was a church activist, my calling to ordination was a gradual process where God showed his patience to me, responding to His love and grace.
On January 12, 2003, I was credentialed by the Pacific Southwest Mennonite Conference at JKIA and ministered in the music department. My main responsibility was overseeing the music team and small groups. Though I enjoyed serving the Lord, I was not sure about taking the path to ordination.
One thing I know through all the seasons of my life, I can trust and take refuge in God. He has been faithful to me. He shows His love by guiding me whenever I face challenging situations. Through His love, he called me over and over to step into faith to His calling. "Now faith is confidence in what we hope for and assurance about what we do not see" (Hebrews‬ 11:1, NIV).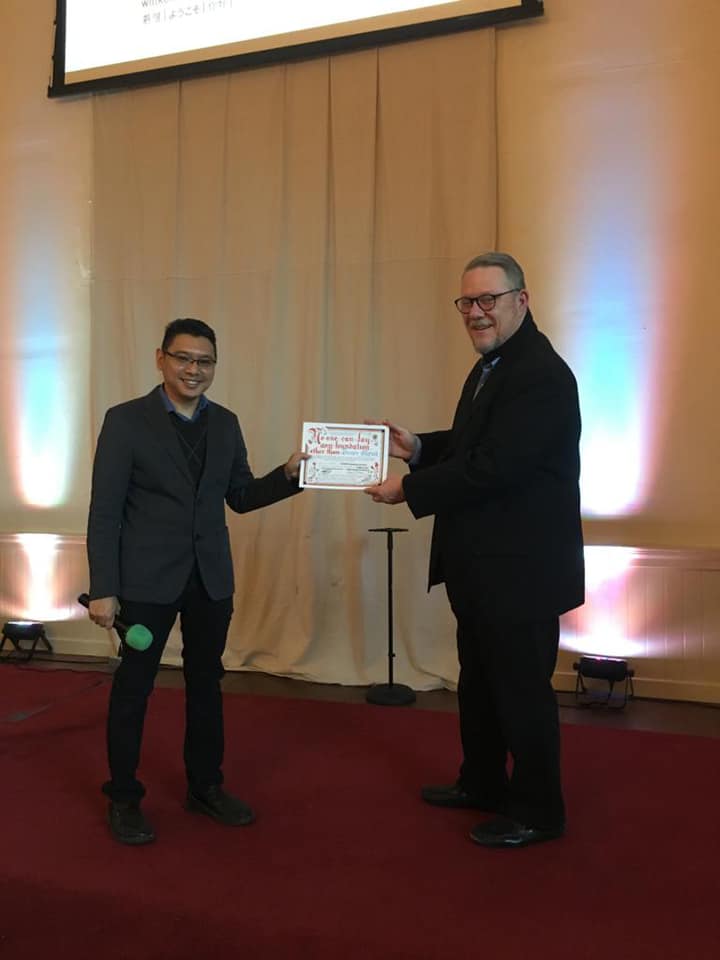 I finally came to the personal assurance that we are called to serve God within our capacity. Servanthood is our response to God's love. The best way I could respond to God's unfailing love is to serve Him with the gifts He entrusted to me. All this time He had been patient, waiting for me to be ready.
On October 25, 2020, I was ordained by Mosaic Conference. It is a new chapter of my ministry. For God has been so faithful, I believe He will guide me again in this journey of faith. His work is not done with me.
"God had planned something better for us so that only together with us would they be made perfect" (Hebrews 11:40, NIV). As human beings, our self-doubt and fears haunt us, but the Word of God reminds us, "There is no fear in love. But perfect love drives out fear" (I John 4:18, NIV).
God's love guides me in stepping out in faith into his perfect way.
The opinions expressed in articles posted on Mosaic's website are those of the author and may not reflect the official policy of Mosaic Conference. Mosaic is a large conference, crossing ethnicities, geographies, generations, theologies, and politics. Each person can only speak for themselves; no one can represent "the conference." May God give us the grace to hear what the Spirit is speaking to us through people with whom we disagree and the humility and courage to love one another even when those disagreements can't be bridged.
This post is also available in: Español (Spanish) Indonesia (Indonesian)
This post is also available in: Español (Spanish) Indonesia (Indonesian)