This article is translated to English by Andrés Castillo. Original article appears in Mosaic News En Español: Sopa Comunitaria en Iglesias Anabautistas-Menonitas en América Latina, Venezuela en la Crisis una Oportunidad por Javier Marquez
COVID-19 is perhaps the most specific way to describe our present situation. All of us have witnessed our lives reshaped in order to face the global epidemiological crisis. The world finds out about issues as quickly as they happen, and people, whether they like it or not, are intimately involved in the development of all of this.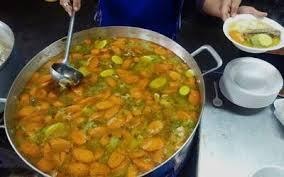 In spite of this global panorama, anabaptists churches around the world continue finding incentives to face the crisis in the Bible, remembering two fundamental values we understand from scripture and from our callings as the church: persisting in the community and helping one another.
This is a report about the cases of a few anabaptist churches in Latin America, with the purpose of finding out how and what our brothers and sisters are doing in this part of the continent, as well as accompanying the global community in prayer.
In Mexico, as we will see in each country, many churches have opted to continue meeting virtually. In the case of Iglesia Fraternidad Cristiana Vida Nueva (Christian New Life Brotherhood Church) in Mexico City, since the first Sunday of quarantine, members have been attempting to connect and share the service via Facebook and ZOOM. This change, according to pastor Marisol Arriaga, was due so that the congregation could continue to participate.
In every country where we ask, the same is reported: Mexico, Cuba, Colombia, Paraguay, Venezuela, El Salvador, Nicaragua, Puerto Rico, Honduras, and Guatemala. In Asunción, Paraguay, Karina Bogarín, youth of Maranata de los Hermanos Menonitas (Maranatha of the Mennonite Brothers), emphasizes how the elders of the church have had to migrate to contemporary technology and that they are, in a great sense, those who are bringing the most to prayer and communication among members.
Within the crisis, churches have found opportunities to explore and discover different methods to share. In Colombia, for example, Iglesia Menonita de Teusaquillo (Teusaquillo Mennonite Church) in Bogota have celebrated the Last Supper in a virtual service where everyone, from their homes, prepared the utensils necessary to share this symbol of unity in the body of Christ and the memory of what Jesus did on the cross.
One interesting story is of a young man, Santiago Manrique, conscientious objector and part of the community of Iglesia Menonita Ciudad Berna (Berna City Mennonite Church) in Bogota, who, during the time when regional measures began to be taken, found himself in Panama and, due to the closing of airports in his homeland, has had to stay there. Contact with his church family through WhatsApp and ZOOM has been fundamental for him to be able to live so far from home during this time.
In Cuba, where the situation is particularly different to that of other Latin American countries due to the difficulties connecting to the internet, it has been much more of a luxury to bring meetings online. However, there has been a WhatsApp network in use where members are informing us of the situations families are going through, at least in Havana, according to what one Cuban anabaptist church youth leader, Moises Santana, tells us.
The virtual congregation is not only a living example of community spirit in our sister churches of Latin America. It is also a case of social responsibility, of understanding that the church finds itself in a social knot—it can be just as much of an actor in the betterment of society as in the harming of it, according to the correctness of its decisions.
Virtual meetings don't have the sole objective of continuing ecclesiastic Sunday activities. They have been, above all, a method of mutual care and safety. COVID-19 is causing harm that goes beyond social health. Global attention to the crisis, with measures of preventative isolation and stagnation, are generating grave economic and psychological problems.
Pastors are insisting on the difficult task of maintaining social isolation. Although this can produce loneliness and stress in many church members, the value that they place on the virtual continuation and the exploration of methods that allow for more participation and contact among the congregation is something to highlight.
Churches in every country are trying to face the economic problem that quarantining generates with coordinated assistance to the people who need it most in their congregations. In Colombia, Iglesia Menonita de Teusaquillo is trying to give out groceries to families in need, among these Venezuelan immigrants. In Mexico, through Ministerio Sendas de Justicia (Paths of Justice Ministry), which came about two years ago when the caravan of immigrants traveled from Central America, groceries are being donated to those in need.
Another country with a peculiar situation due to its politics is Venezuela, where there are also anabaptist missions and churches. In Isla Margarita, pastors Euclides and Darnelis help the Bolivar Bay community by baking bread and distributing bags of coffee, as well as serving soup to the community. In Caracas, the congregation of pastor Erwin Mirábal is cooking beans and arepas to share with the people living in the streets.
In different Central American countries, the Caribbean, the Andean region, and the southern cone, it has been possible to observe the work of churches trying to help the neediest with what they can. They are collecting donations to give to the neediest; it is evident that the churches that previously had active social roles have found it easier to contact food banks or assistance entities. Pastor David Morales in Guatemala has explained how his community has been able to deliver key hygienic supplements such as disinfectant and masks thanks to a pharmacy owned by a member of the congregation.
For the moment, there are very few cases of contagion being reported from members of the Latin American congregations. However, we are conscious of the lamentable case of a family member of pastor José Manuel Guamán, who died due to the virus in the city of Guayaquil, Ecuador. This news has created a chain of prayer in different countries in the region.
The opinions expressed in articles posted on Mosaic's website are those of the author and may not reflect the official policy of Mosaic Conference. Mosaic is a large conference, crossing ethnicities, geographies, generations, theologies, and politics. Each person can only speak for themselves; no one can represent "the conference." May God give us the grace to hear what the Spirit is speaking to us through people with whom we disagree and the humility and courage to love one another even when those disagreements can't be bridged.
This post is also available in: Español (Spanish)
This post is also available in: Español (Spanish)