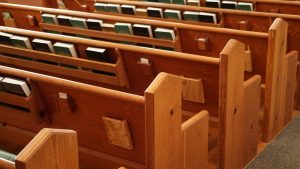 by Steve Kriss, Executive Minister
Two months ago, I wrote an article about why we might postpone, cancel, or shift to online meetings. Now, many of us are approaching months of physical distancing and social/spiritual solidarity. For most, the time has felt long. We have been challenged in ways we couldn't have predicted.
Many of us are turning to the question of re-gathering in person. Throughout this time as a Conference, we have emphasized the "Jesus Creed" of love of God and neighbor. As we consider possibilities, I suggest several postures while keeping these questions at the center of our discernment:
How does our re-opening, re-gathering, or refraining from gathering express our love of God?
In our in-person or dispersed acts of community, how do we embody and extend our love for our neighbors?
Posture 1: Consider the vulnerable.
Paul reminds us that, as one body, we honor those who are vulnerable with a heightened sense of care. Does our gathering together increase our risk? Yes, inevitably it does. But how can we release more vulnerable persons from responsibilities in ways that also honor their desire to be in community?
Ripple Community Inc, in Allentown, PA, did this well by introducing new precautions and by shifting staff members who are over the age of 60, to more behind-the-scenes roles. Younger staff remained in forward facing/interactive roles.
Considerations for persons over 65, immuno-compromised, and/or caregivers for vulnerable persons must be in our minds as we think about what it means to gather together again. Jesus promises that he's present when just two or three of us are together. How can we create environments that are welcoming, hospitable, and minimize the negatives of risk?
Posture 2: Consider guidance from local public health and government leaders.
Montgomery County, Pennsylvania, where Conference offices are located, had requested that religious communities not gather in person. I appreciated that this was a request not a mandate. We are reminded in our gathering of our witness as salt and light in our communities. While we understand the laws of the land do not establish our moral compass, we encourage communities to cooperate with local public health directives and government requests regarding in-person gathering. This means keeping up to date and aware of changing contexts and situations in our local communities.
Posture 3: Consider responsibilities over rights.
Sometimes in the United States, our go-to response is to point to the Bill of Rights. We have the right to assemble and the privilege of religious freedom. But as Christians, we know that freedom in Christ also comes with significant responsibility. For some of our congregations, this has meant using our meetinghouses to provide food for neighbors or opening our spaces for blood drives. We have the freedom to not be overcome by fear, but we have the responsibility to act justly, love mercy, and walk humbly. We live in tension between seeking the common good and individual conscience. We recognize that others might make different decisions in discernment of how to live our responsibilities as a witness of Christ's healing and hope in our communities.
Posture 4: Consider new possibilities.
The pandemic has been an interruption in our regular lives and schedules. It has indeed been stressful. However it has also opened new possibilities. Some of us have moved to online worship. Some of us have planted gardens. Some of our churches report new faces in worship. There have been new opportunities for witness. How do we not too quickly jump back to "what was" out of familiarity? How might the Spirit be inviting us to change and respond?
We believe in a God who sustains, redeems, and brings transformation in the midst of struggle. As we consider how to creatively extend Christ's peace, we have opportunity to bear witness of God's love and care for one another, both nearby and around the world.
This post is also available in: Español (Spanish) Indonesia (Indonesian)