by Eileen Kinch
Mosaic Conference formed in 2020 with the reconciliation of the former Franconia and Eastern District Conferences. Mosaic has 65 member congregations, and nine of these are predominantly Asian. How did these congregations come to be part of Mosaic? The answer is complex, but it reflects the relational nature of Mosaic and the movement of the Holy Spirit.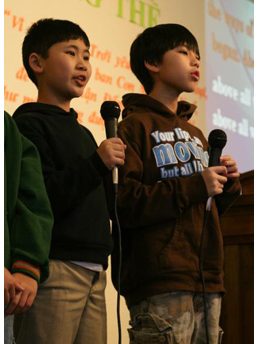 Vietnamese Gospel Mennonite Church (Allentown, PA) is the oldest Asian majority congregation in Mosaic. This congregation started in 1983 as the Vietnamese Christian Fellowship and initially met for worship at Penn View Christian School (now Dock Academy). Hao Tran became the first pastor in 1985. Luke S. Martin, Ca Nguyen, Phi Tran, and Thanh Cong Phan served in leadership roles from 1988 and through the 1990s. The congregation officially joined Franconia Conference in 1996. Pastor Bao Tran is the minister at Vietnamese Gospel Mennonite Church which meets in the former Allentown (PA) Mennonite Church building.
Philadelphia (PA) Praise Center (PPC), an Indonesian majority congregation, started in 2005, but it had no denominational affiliation. A member of the congregation, who was a Mennonite in Indonesia, asked Aldo Siahaan, founding pastor of PPC, if he could invite his Indonesian Mennonite pastor to come and visit PPC. The Mennonite pastor visited for several weeks. Through Mennonite connections in Indonesia and in the US, Siahaan eventually found himself in the Franconia Mennonite Conference office. A staff member invited him to Conference Assembly. After a year of discernment, PPC joined Franconia Conference in 2006. This congregation is one of the five largest in Mosaic Conference in terms of attendance.
Other Indonesian congregations joined Franconia Conference, often because of their connection to the Philadelphia Praise Center as an Indonesian immigrant church. Nations Worship Center (South Philadelphia, PA), pastored by Beny Krisbianto, joined Franconia Conference in 2007. A former Lutheran congregation, Indonesian Light Church, also in South Philadelphia, joined in 2014. Bethany Elevation Community Church (New York City) was seeking safety and spiritual shelter as an immigrant congregation. Yakub Limanto, Bethany's pastor, met with Beny Krisbianto, and the congregation joined Franconia in 2017. These congregations range in size.
Several congregations in California have also found a home with Mosaic. Jemaat Indonesian Christian Anugerah (Sierra Madre, CA), Indonesian Worship Church (San Gabriel, CA), and Immanuel International Church (Colton, CA) all joined in 2017. San Francisco Chinese Mennonite Church joined in 2018. These congregations were looking for an affiliation after Pacific Southwest Mennonite Conference reorganized. They saw what some of their other Indonesian/Asian brothers and sisters were doing and decided to join Franconia.
For some Swiss-German Mennonites in Pennsylvania, being Mennonite may mean having a family heritage that goes back 300 years. For some of the Asian congregations in Mosaic Conference, being Mennonite means having a larger church family of support. For example, during the pandemic, many immigrants in Philadelphia were out of work. Through the Shalom Fund, Mosaic Conference supported food and grocery distribution among the Indonesian congregations for several months. "We have been so blessed by this relationship," said Pastor Aldo Siahaan. Mosaic has stood by this relationship many times, he said, even supporting immigrant churches during times when immigration policies were uncertain.
Mennonites often refer to this kind of help as "mutual aid." This practice goes back centuries. Mennonites in the Netherlands helped their persecuted Swiss brothers and sisters to pay for their journey to North America in the 1700s.
Meanwhile, Mosaic's Asian congregations contribute greatly to the broader Conference as well. Two of the top donor congregations to Mosaic Conference's budget are Indonesian congregations. Representatives from our Asian congregations actively contribute to Mosaic's board, committees, and staff. Mosaic Conference is blessed to be able to continue the practice of helping one another, regardless of their background, in the 21st century.
We are better because of our diversity, a true mosaic of a Christian community.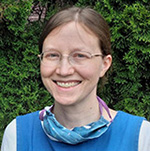 Eileen Kinch
Eileen Kinch is a writer and editor for the Mosaic communication team. She holds a Master of Divinity degree, with an emphasis in the Ministry of Writing, from Earlham School of Religion. She and her husband, Joel Nofziger, who serves as director of the Mennonite Heritage Center in Harleysville, live near Tylersport, PA. They attend Methacton Mennonite Church. Eileen is also a member of Keystone Fellowship Friends Meeting in Lancaster County.