Mosaic Mennonite Conference Assembly
Saturday, November 4, 2023
(Registration and Exhibits Open 9:00-9:30 AM)
9:30 AM – 4 PM ET
Souderton Mennonite Church (map)
(in person – there is no virtual option this year)
Why should I register? Your church or CRM may have reported to Mosaic that you are a delegate, but now we need you to REGISTER your attendance. All attendees – delegates and guests – should register their attendance, to help us plan and prepare.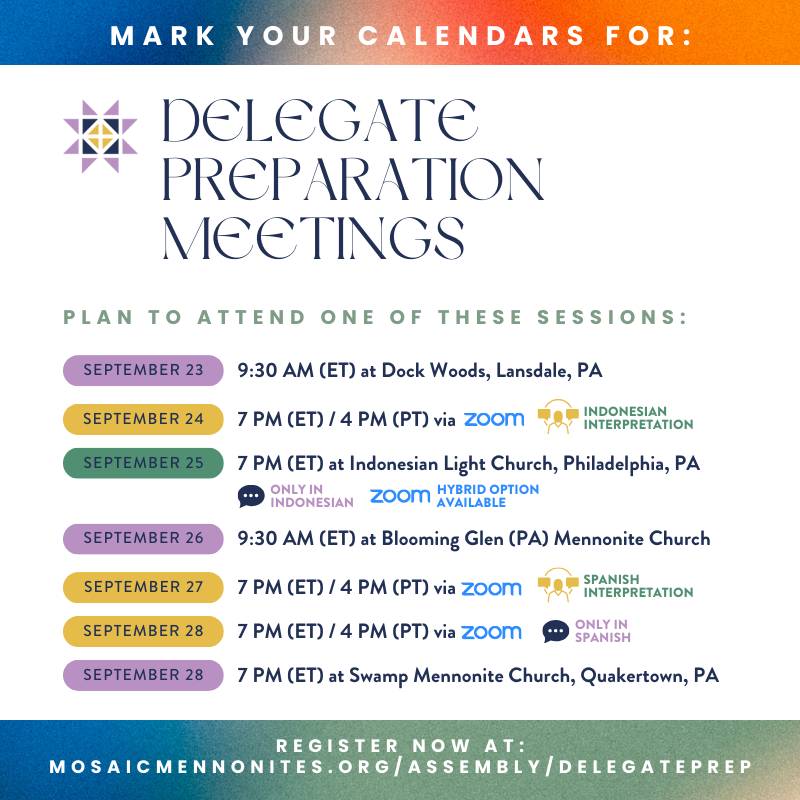 What are Assembly Delegate Preparation Meetings?
Mosaic Conference holds a series of delegate preparation meetings in the weeks leading up to our gathered Assembly. The purpose of these meetings is to help delegates understand the important commitment and specific duties they are responsible for, to prepare them with the latest information on the issues that will be discussed, and to give an opportunity to give feedback and ask questions.
Delegates are asked to please register and attend at least one meeting on a date & location that best suits them.

* Find important Mosaic Conference documents HERE
* Delegate Assembly Policy & Delegate Ministry Description: pages 8-10 HERE
* Mosaic News – our weekly e-newsletter: see past issues HERE
(new delegates will begin to receive Mosaic News next week!)
The 2023 Docket will be released in a few weeks … watch your email!

(5/11) Powerful Kindness, Faithful Truth – Conference Assembly Theme
Visit MosaicMennonites.org/assembly
or check your email for important information, documents
& details as they become available!
The opinions expressed in articles posted on Mosaic's website are those of the author and may not reflect the official policy of Mosaic Conference. Mosaic is a large conference, crossing ethnicities, geographies, generations, theologies, and politics. Each person can only speak for themselves; no one can represent "the conference." May God give us the grace to hear what the Spirit is speaking to us through people with whom we disagree and the humility and courage to love one another even when those disagreements can't be bridged.