by Eileen Kinch

Mary Jane Lederach Hershey's interest in history runs deep. She was born in Trooper, PA, and grew up with a library and an archive in her house. Jacob Mensch, Hershey's great-grandfather, collected books from previous generations. When his son Abe Mensch came to live with Mary Jane and her parents, who were workers at the Mennonite Gospel Mission in Norristown, so did the books.
Many visitors would stop by Hershey's childhood home in Trooper, and later when her family moved to Lederach, PA, to view the books. These volumes were also storage spaces for fraktur. Her mother would open the books and handle the unique fraktur pages very carefully. "From my teenage years I knew that fraktur was really special, and was important to this community," Hershey said.
Fraktur is a folk art form with European roots that Pennsylvania Germans created between 1740 and 1860. It features hand lettering in a German script and is characterized by decorative motifs, such as flowers and birds, as well as special calligraphy. Pennsylvania German Lutherans and Reformed used fraktur to make birth and baptismal certificates. Since Pennsylvania German Mennonites did not practice infant baptism, they created fraktur in educational settings. Christopher Dock, a schoolteacher who taught in Skippack and Salford, often rewarded his students with a special fraktur. Students also made fraktur to practice penmanship, a practice that continues today in some Mennonite schools.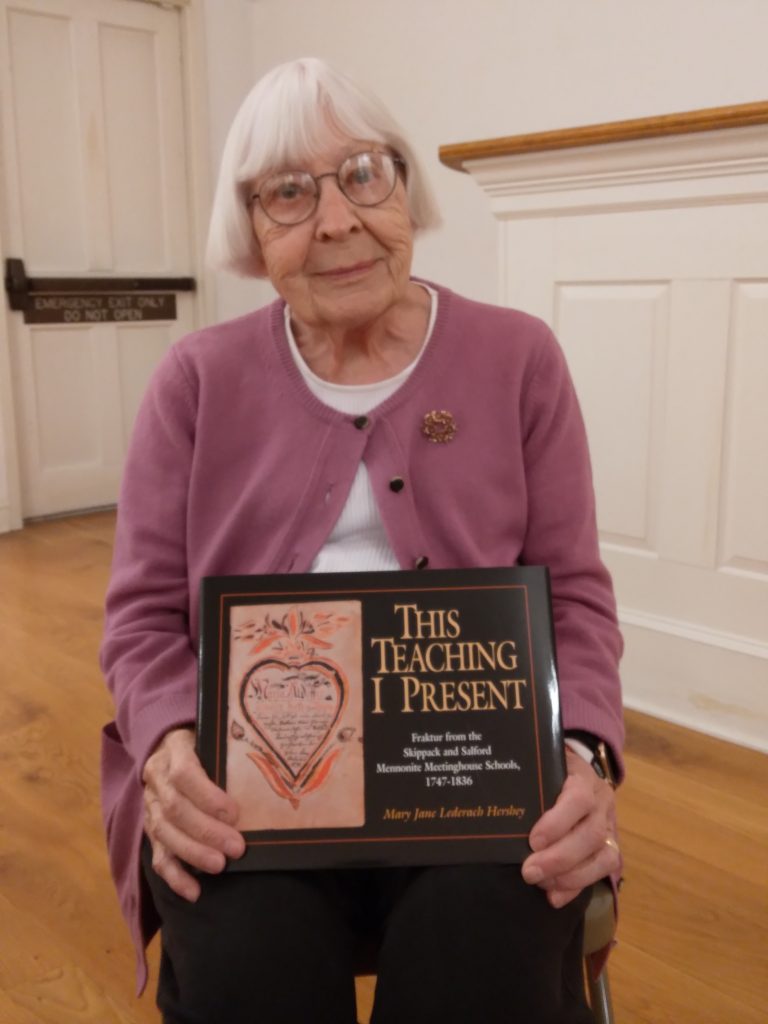 In the 1960s and 1970s, many Mennonites in southeastern Pennsylvania sold their farms. Often family treasures, such as fraktur, were put up for sale at estate auctions. Hershey was troubled when she saw non-Mennonite antiques dealers and shops purchasing these items, so she and her husband, Hiram Hershey, began to buy as much fraktur as they could. She tried to become involved with the Franconia Mennonite Historical Society, but the group, which consisted entirely of men, did not know how to welcome her.
Wanting a Mennonite historical organization that was more inclusive, Hershey and others started their own in 1974. Hershey served as the first director of Mennonite Historians of Eastern Pennsylvania (MHEP). She wrote regular reports in the organization's newsletter, often listing acquisitions and donors. "Our heritage is not a bondage, but is a beautiful gift from God from which we can learn," she wrote in 1976. Hershey later served on the board of MHEP and now serves as a volunteer in the library and archives.
"The theme of my life is to do justice, love mercy, and walk humbly with God," Hershey said. Creating a historical organization that was open to women was a justice issue. So was finding a place for Mennonite family treasures that were being dispersed. Instead of selling or giving their history away, Mennonites should be collecting and interpreting it. A member of Salford Mennonite Church (Harleysville, PA), Hershey's desire for justice has also led her to take part in other protests and demonstrations.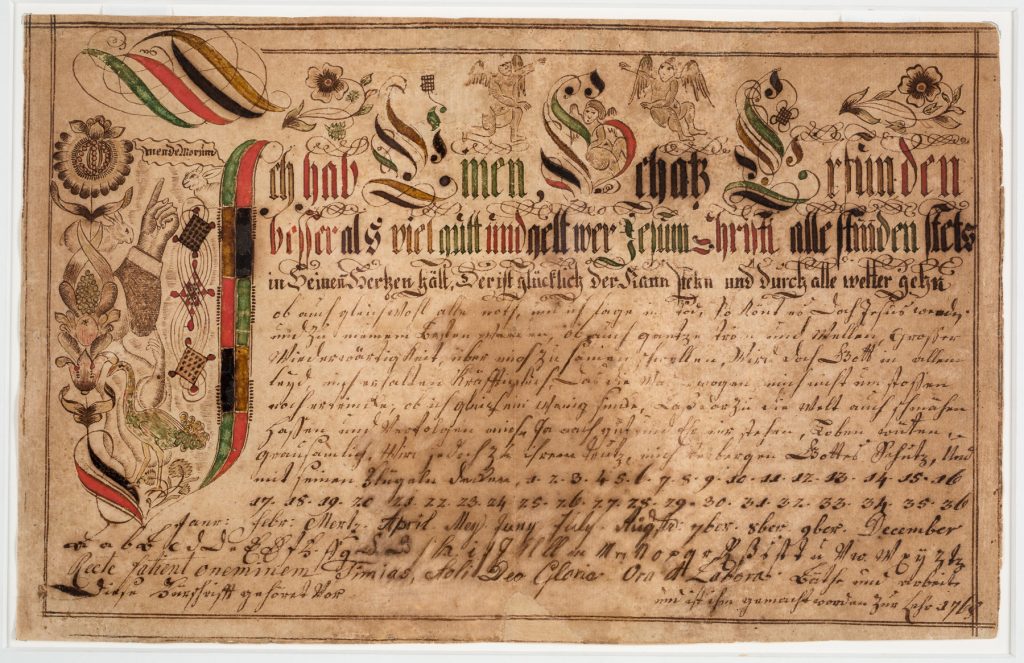 Hershey published This Teaching I Present in 2003, a book that she had been working on for many years. This Teaching I Present focuses on fraktur created specifically in the Skippack and Salford meetinghouse schools. Hershey also has an interest in textiles and wrote her master's thesis on dress in Franconia Conference. The thesis, her journal articles, and her book on fraktur are all available in the library at the Mennonite Heritage Center (Harleysville, PA). The Mennonite Heritage Center archives also houses the books and papers collected by Hershey's great-grandfather, Jacob Mensch. Her family's careful stewarding of Mennonite heritage shaped the course of Hershey's work. Her love of heritage can now shape ours.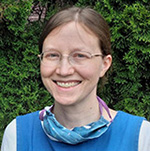 Eileen Kinch
Eileen Kinch is a writer and editor for the Mosaic communication team. She holds a Master of Divinity degree, with an emphasis in the Ministry of Writing, from Earlham School of Religion. She and her husband, Joel Nofziger, who serves as director of the Mennonite Heritage Center in Harleysville, live near Tylersport, PA. They attend Methacton Mennonite Church. Eileen is also a member of Keystone Fellowship Friends Meeting in Lancaster County.
The opinions expressed in articles posted on Mosaic's website are those of the author and may not reflect the official policy of Mosaic Conference. Mosaic is a large conference, crossing ethnicities, geographies, generations, theologies, and politics. Each person can only speak for themselves; no one can represent "the conference." May God give us the grace to hear what the Spirit is speaking to us through people with whom we disagree and the humility and courage to love one another even when those disagreements can't be bridged.