By Brooke Martin
It's mid-January now. Winter darkness has settled in. Most Christmas decorations are put away along with the ambiance they offer. Christmas outdoor decorations are a rare sight. We have made it past the winter solstice, the longest night of the year. Depending on the person, this information ranges from obvious and unmissable to something inconsequential and possibly un-noted.  I find myself noticing the darkness more in January when the joy of the Christmas lights fades and the darkness is more evident. 
In my home, we have white lights that stay up year-round, a strand around the kitchen, and a strand on a wall in our living room. In part this is a practical choice, for the times we come home after dark, welcoming the light to aid us in reaching the light switch without tripping over strewn toys on the floor. 
Warm white lights can offer a cozy welcome and calm respite after whatever the day has brought. As evening calm settles into our house, I can be intentional about unwinding. Sometimes the warm light helps me center in yoga, inviting me to tune-in and listen anew to the Triune God around me. Other evenings I snuggle in with a warm drink intuitively embracing the complement of light and darkness, the cold of winter with the warmth of heat and a blanket.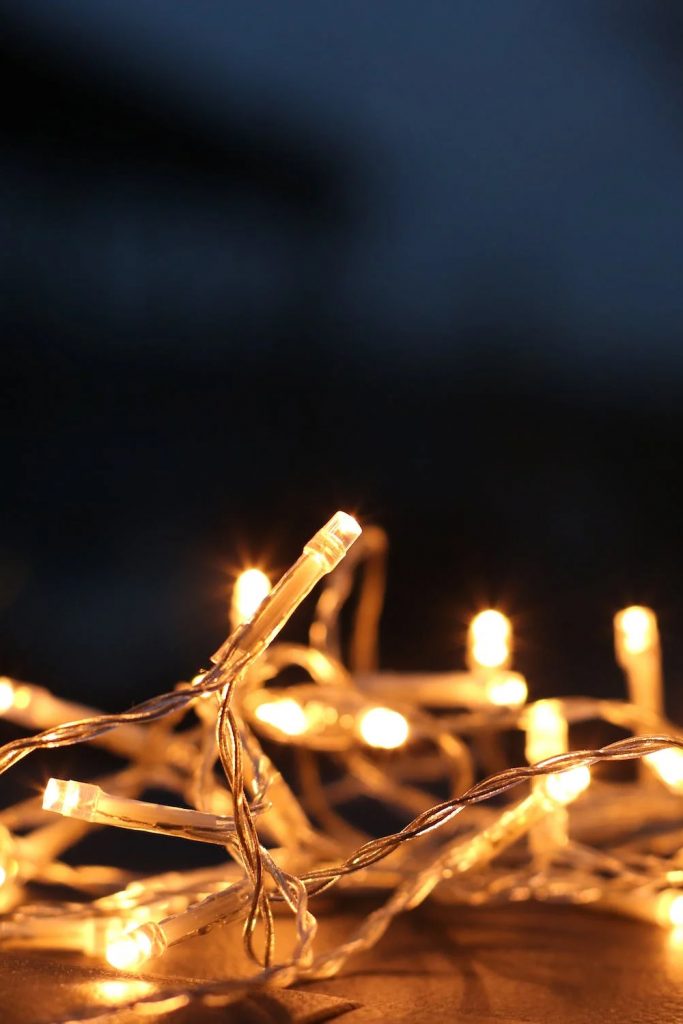 Light in the darkness can also be a symbol used to remind my children of the Holy Spirit's presence watching over them. A lava lamp and small lamp are switched on when my children climb in bed. When their thoughts are scary, or a shadow in the closet tricks their eyes, they come to find my husband and me.
We have a few practices to engage during these times. Putting the power back in my kids' control, we flip the image, helping them imagine their fear appearing in a silly or less threatening way. What happens when the scary thing wears a rainbow tutu … how about if it has a clown nose or rides a unicycle? We also equip our children by reminding them that God is with them, we are here, and they are safe. A hug goes a long way.
We have a prayer that we have taught our children. It is not perfect, it does not mean their room is as bright as daylight. It can be picked apart, but it does name their bravery and remind them that Jesus, our hope, is light.
"Jesus is with me 
And Jesus is the Light, 
And where there is light, 
There can be NO DARKNESS. 
Help me be brave." 
As evening comes today or clouds cover the sky, may we also be able find the lights, and may God use them to center and comfort us and to spark hope and bravery.
Brooke Martin
Brooke Martin is the Youth and Community Formation Pastor for Mosaic Conference. Brooke lives in Telford with her husband, Nathaniel, and their two children.