By Eileen Kinch
Turan D. Rush, Mosaic's newest staff member, is a Leadership Development Associate with passion and energy. He is also the Chief Operations Officer (COO) at the Midian Leadership Project (a Mosaic Conference Related Ministry) in Charleston, WV. Rush grew up in Charleston and graduated from Eastern Michigan University in 2021. Rush is employed for his Mosaic work a half of day per week, which is funded through Mosaic Conference, Mennonite Central Committee (MCC), and the Midian Leadership Project.   
Rush returned to his hometown after college because he wants to see positive change in his community, especially in the schools. "I want to master the concept of restorative justice," Rush said and looks forward to learning from the Mosaic community as well as giving to it.
Restorative justice is based on relationships. If students throw food in the cafeteria, the usual course of action is detention because the students broke the rules. With restorative justice, however, students work at repairing the relationships that were harmed because of their actions. If the students were assigned to janitorial duty, they would need to work with the janitors and learn how throwing food affected them.
For restorative justice to work, students need relationships with teachers and staff. Rush pointed to time in his own life when a teacher inspired him to succeed. He was a self-described goofy, immature high schooler, but his English teacher, Miss Garrison, believed in him. "You're a leader," she told him.
Miss Garrison emailed Rush over the summer before his junior year of high school and explained that she was putting him on student council. "I had to hold myself to a higher standard. I had to push myself to be a better person," said Rush.  Miss Garrison could have labeled him as a troublemaker, but instead she put him in a leadership role. 
Rush wants to bless others in the way he has been blessed. In addition to his duties at the Midian Leadership Project, which include hiring staff and running meetings, he is also a teacher in a virtual homeschool. A local middle school student couldn't focus in typical a classroom setting and got kicked out of public school. Rush went to the school and asked if he could teach the student.
Rush wants to start his own high school someday, and he sees his teaching role as an opportunity to test possible ways to run the future school. He dreams of an all-male Christian high school to help build up young men to be leaders and better fathers. The school would incorporate restorative justice with its disciplinary structure.
Rush is also interested in trauma healing through sports. As a football player at Eastern Michigan University, he understands firsthand how physical movement and team accountability can relieve stress and trauma. "When you play sports, you forget about all the negative things and trauma in your life…. It releases some type of positive energy where you can just be you." Rush is eager to do more research to understand the connections between sports and trauma healing. Meanwhile, the Midian Leadership Project has already placed 15 trauma-trained coaches in schools and local community sports teams.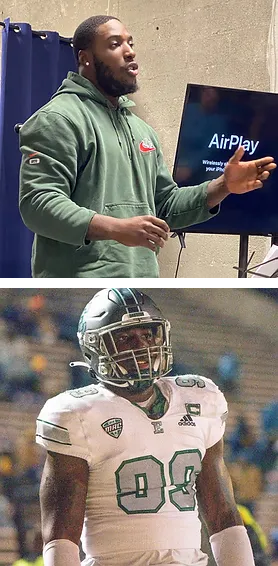 "Youth are the people who are going to change the world," Rush explained. The Midian Leadership Project's goal is to make sure the youth have what they need so that they can. To know that God is working through him is exciting.
"Every time I wake up and am blessed with another day, I have an opportunity to help," Rush said. "I just [want] to serve and help the community and the world as much as I possibly can."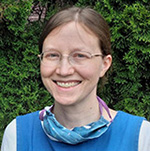 Eileen Kinch
Eileen Kinch is part of the Mosaic communication team and works with editing and writing. She holds a Master of Divinity degree, with an emphasis in the Ministry of Writing, from Earlham School of Religion.