by Ken Burkholder

I'm currently reading Conrad Kanagy's series of books entitled, "A Church Dismantled – A Kingdom Restored." With the bold words of a prophet, the keen insights of a sociologist, and the loving heart of a pastor, Kanagy explores the stark challenges and unique opportunities facing the Western church today. I find these books to be stimulating, provocative, inspiring, and disturbing…all at the same time!
Drawing parallels with God's people in exile at the time of the prophet Jeremiah, Kanagy beckons us to regularly be asking, "Where is the Lord?" Amid our challenges, disappointments, uncertainties, and opportunities, we must be attentive to what the Lord is saying and doing among us, always asking, "Where is the Lord?" Kanagy warns against the false "mantles" of the church and cautions us against resisting the movement of the Spirit. Rather, we're called to actively join with the work of God's Spirit in restoring the authentic, Jesus-centered, Spirit-filled Kingdom of God.
As we approach and prepare to gather for Mosaic's Fall Assembly – with a theme of chesed: God's constant, steadfast, and faithful love – I urge us, as the people of God, to continue to be prayerfully asking, "Where is the Lord?" What is the Lord saying, and calling us to, at this particular time? Where is the Lord in our midst? How can we actively join with the movement of God's Spirit among us in His work of dismantling and restoration, being open and obedient to His leading?
In continued preparations for Fall Assembly, I want to highlight a few important updates and reminders, as we seek to discern, "Where is the Lord?"
How can we actively join with the movement of God's Spirit among us in His work of dismantling and restoration, being open and obedient to His leading?   

KEN BURKHOLDER
Call to Prayer
Thank you to the many congregations and individuals who've participated in the Conference initiative of listening prayer and sharing your feedback with the Conference Prayer Ministry Team. If you haven't already submitted your feedback, please do so by emailing Marta Castillo. And please keep praying for Assembly!
Listening Task Force
The Mosaic Board appointed this group with a task of leading a conference-wide listening process and reviewing Mosaic Conference's relationships with MC USA. The task force is working diligently. More information can be found here. If your Mosaic community has not had an opportunity to talk with members of the Listening Task Force, please contact any one of the following members: Aldo Siahaan, Jenny Fujita, or Nathan Good.
The task force will share their findings and recommendations with the Mosaic Board in late September. In early October, the Board will then provide an update on these findings, and further information, in preparation for Fall Assembly.
Assembly Scattered
These gatherings will provide an opportunity for additional discernment, learning, and conversation prior to Assembly. Please plan now to join us in October.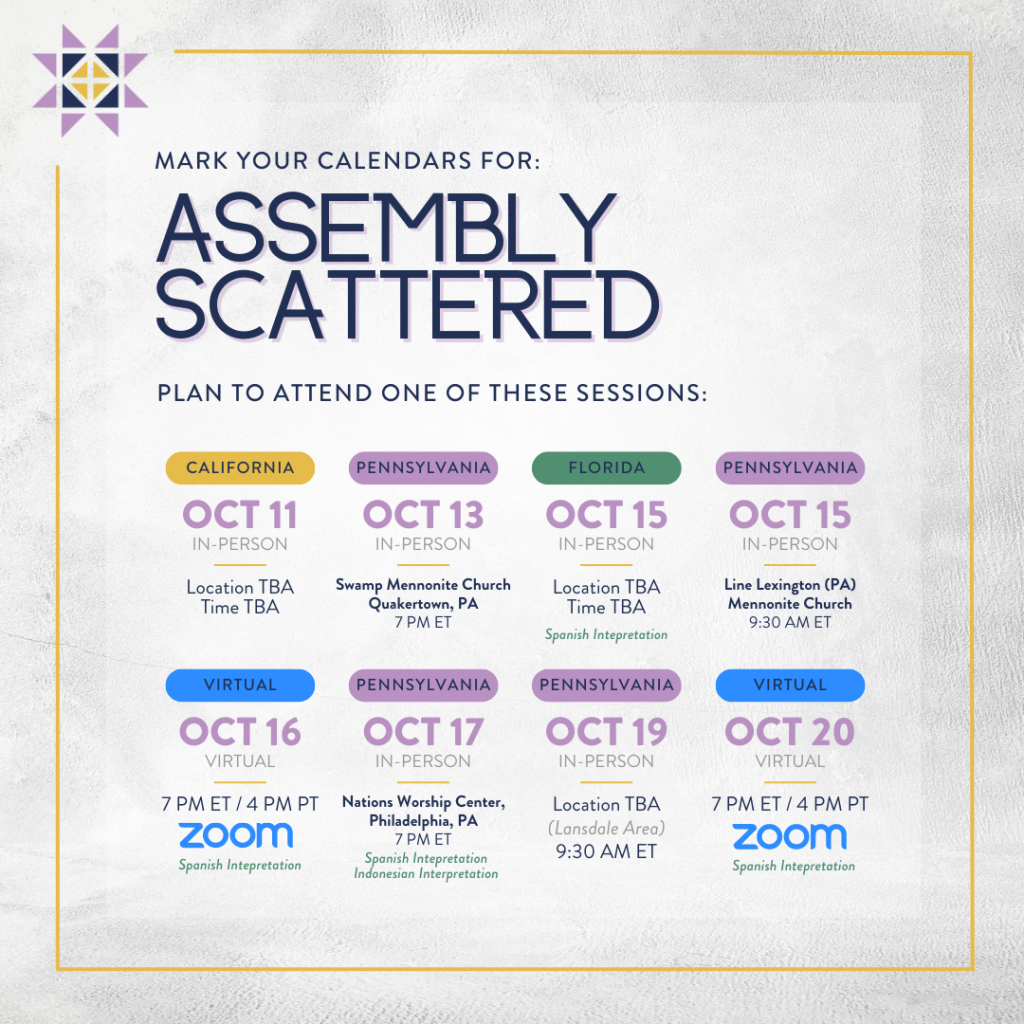 Assembly Gathered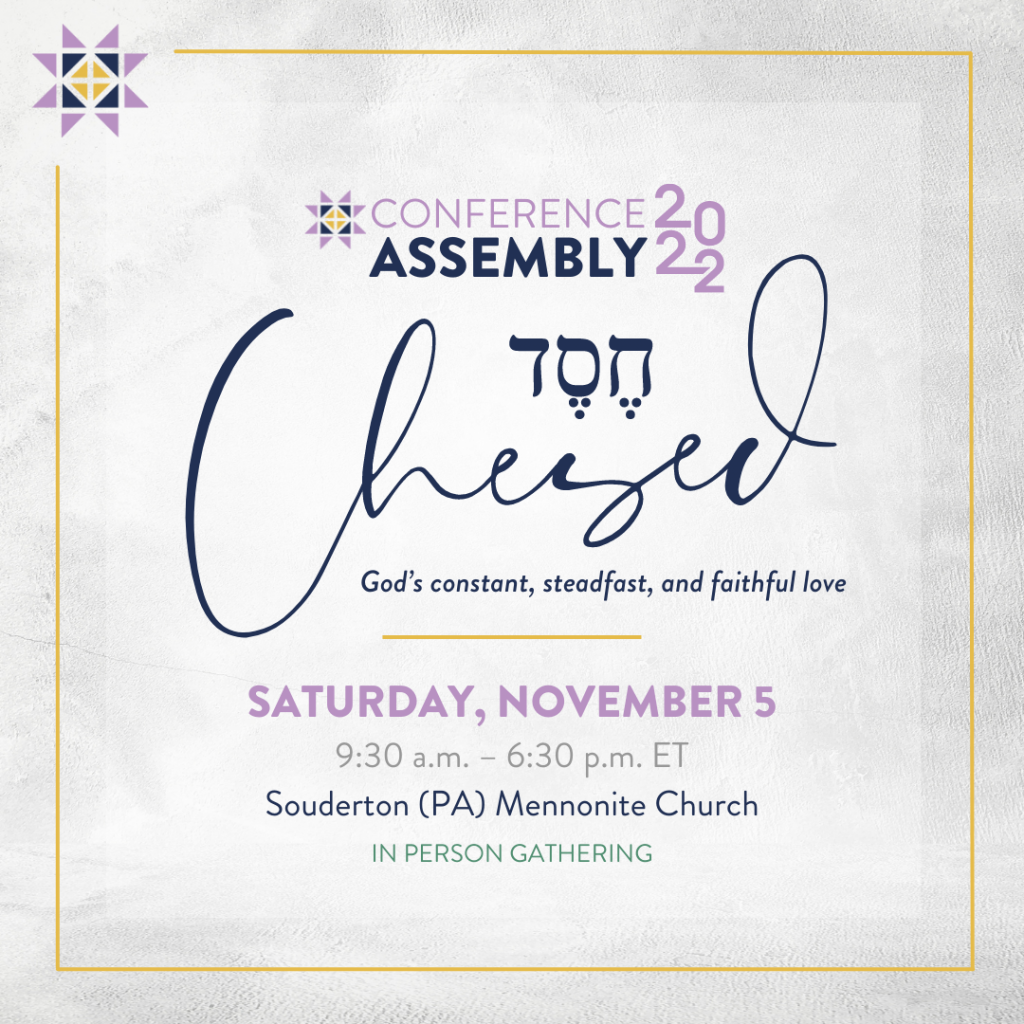 Saturday, November 5, 2022; 9:30 a.m. – 6:30 p.m. ET at Souderton (PA) Mennonite Church. There will NOT be a virtual option this year. Registration opens tomorrow, Friday, September 9. Please encourage all of your delegates to register!
Please continue to check the Conference Assembly website for information and updates: https://mosaicmennonites.org/assembly/
Ken Burkholder
Ken Burkholder is the moderator of Mosaic Mennonite Conference and Lead Pastor of Souderton (PA) Mennonite Church. He previously served for 16½ years as lead pastor of Deep Run East Mennonite Church in Perkasie, PA. Ken is married to Karen (Frankenfield) Burkholder, and has two young adult children – Alyssa and Justin.