Book Review of: Disarmed: The Radical Life and Legacy of Michael "MJ" Sharp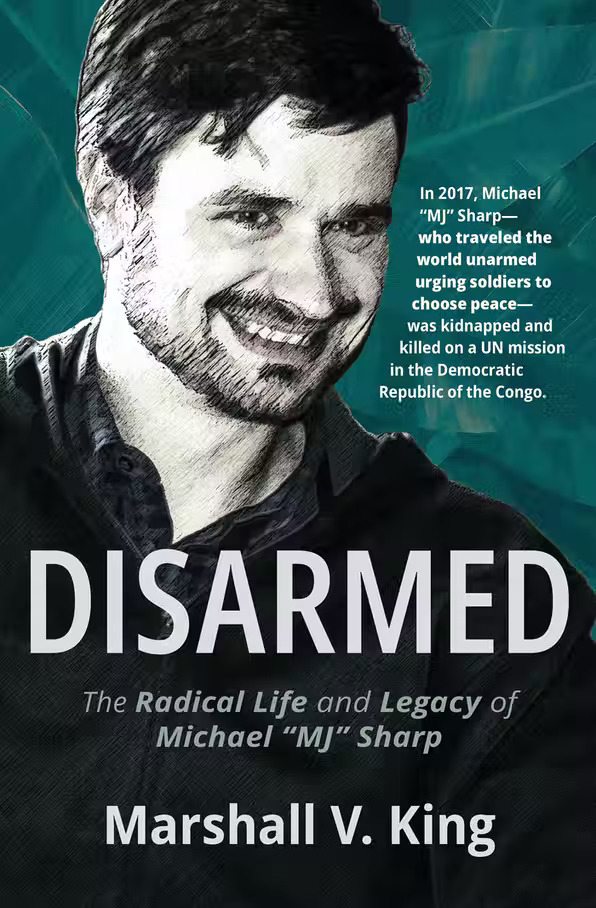 The first words of the tribute to Michael "MJ" Sharp are disarming, "There is no way to peace along the way of safety. For peace must be dared, it is itself the great venture and can never be safe. – Dietrich Bonhoeffer." The brutal death, likely assassination, of MJ Sharp at age 34 while working for the United Nations Group of Experts in the Democratic Republic of the Congo (DRC), urging rebels to lay down their weapons, is also disarming, in many ways.
In the book, Disarmed: The Radical Life and Legacy of Michael "MJ" Sharp, Marshall King gets to the heart of the disarming mission that cost Sharp and his colleague, Zaida Catalán, their lives on March 12, 2017. At the outset, King wrote, "I never felt that I would be the one to unravel this international murder mystery, and I did not attempt it in this book."  Instead, King wants to help the reader understand why Sharp felt called to be in, "the country that remains one of the world's poorest and most dangerous places to live." 
The reader is taken on a journey through Sharp's life: raised in a Mennonite home in Indiana with Mennonite pacifist values and ethics grounded in the Sermon on the Mount. Sharp attended Eastern Mennonite University (EMU) and was a good student and athlete. However, sprinkled in this traditional Mennonite upbringing was a flare for flashy cars and over-the-top pranks, an attraction for cards and gambling, and a restlessness with the safe and traditional. A professor and advisor at EMU said that Sharp, "thrived on risks."
King guides us as Sharp comes of age with friends and girlfriends, travels and adventures, times of exuberance and depression, always following a thread of peacemaking – daring, disarming peacemaking. Sharp did peacemaking stints in Iraq, Afghanistan, and Israel/Palestine. Eventually, Sharp accepts the invitation of Mennonite Central Committee (MCC) representatives, Suzanne and Tim Lind, to teach nonviolent ways of peacemaking.
This invitation leads Sharp to the Democratic Republic of the Congo where he will serve, learn, and die. King provides a bit of Congolese history and his own pessimistic understanding of the DRC and situation in which Sharp operated, with layers of violence, corruption, and distrust among groups. In contrast, King presents Sharp's optimistic approach to engaging combatants, government officials, rebel leaders, with his working belief, "You can always listen."  
Sharp's approach included: arriving on a motorcycle, not in a motorcade; speaking French along with self-taught Swahili, not just English; respecting each person with whom he talks – listening to them; speaking up and speaking out when he saw injustice and unjust treatment. Sharp proved to be disarmingly effective. King follows Sharp's successes in the DRC that will lead him deeper into conversations and investigations, eventually deeper into the bush for his final walk.  
MJ's family and friends also have their part the book. An account of John and Michele Sharp, MJ's parents, seeking answers about MJ and Zaida from officials as high up as UN Ambassador Nikki Haley is poignant. Others recalled how they marveled at MJ's combination of wit and intellect, humor, and humility.
At the end, King cannot help himself as he probes the "What happened?" question, including a chapter with information gathered and disinformation circulated about Sharp's last mission. Who can meet this young man – so concerned with justice and just treatment of others – and not want to "seek justice" for his and Zaida's deaths?                  
King invites full engagement with Sharp who ended up in one of the world's challenging places to make peace. King also invites us to consider our place in the world of peacemaking and to find our place to be peacemakers today.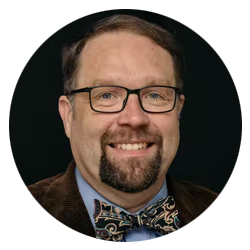 Marshall V. King, author, will be preaching at Salford Mennonite Church (Harleysville, PA) on Sunday, June 19, at 9:30am.
Join Marshall V. King, author, at a book signing and presentation on Sunday, June 19, from 2-3:30pm at Mennonite Heritage Center.