Spring cleaning is an annual ritual at our home. We drag our feet to start, knowing from experience that there is a lot of work ahead of us. Yet the vision of having a fresh, clean start to the outdoor season keeps us moving forward.
There is of course all the outside work – washing windows, pressure washing decks, weeding, mulching, clearing gutters, and cleaning and placing deck furniture. When all the outside work is finished, there is a great sense of accomplishment.
But after taking a bit of a break, we realize the more intense job still lies ahead. We still have a dirty, cluttered garage to clean out. We may feel like putting this task off for a while, but eventually the sheer volume of the stuff collected there begs for our attention. It is amazing what kind of things are collected in the garage in just a year's time.
There are the expected snow shovels, ice melt, and snowblower to be stored properly. But there are also tools, boxes, and Christmas stuff that were never put away properly. Decorations, paint, and sports gear are found everywhere, covered by a layer of salty road dust. Finally, after the task of reorganizing things and doing a final floor sweep, there is a genuine feeling of satisfaction and happiness.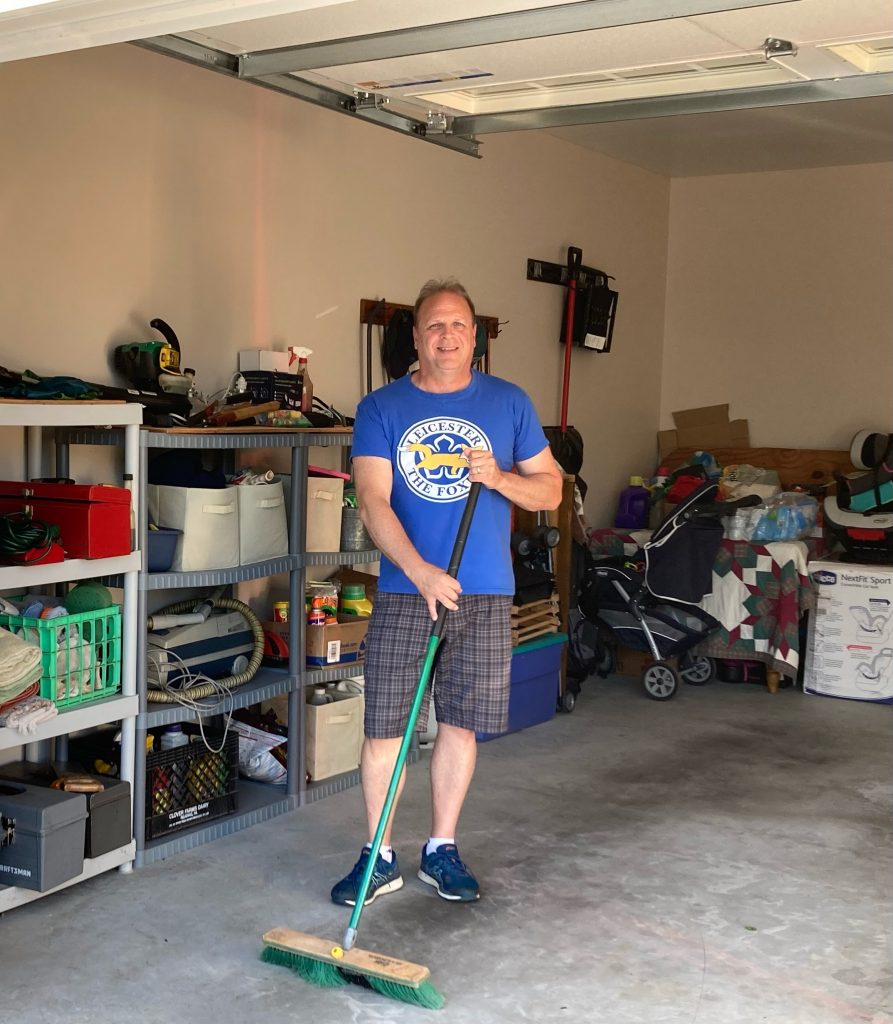 Why do I wait so long to clean and declutter our garage? Perhaps I delay the work because there is a garage door to easily hide the clutter that is inside. Or maybe, because people only see the outside of my house when they drive by, my self-consciousness drives me to work on the exterior of the house first. But by delaying the garage cleanout, dirt and stuff continue to build up and the deep cleaning turns into a lot more work.
This approach to cleaning is also true of our own lives. Over time, because of life's circumstances, pain, sorrow, broken relationships or sin, we develop a need for a deep spiritual cleansing. For me, the mess in the garage of my soul is often hard to simply look at, let alone clean up because there is so much junk there. Often, I have caused most of the mess myself!
Just as it is hard to get started at cleaning my garage, so it often feels with my spiritual life. But I have found that God does most of the cleaning and decluttering work if I just let him in my life.
Throughout the Psalms, we see David modeling this need to intentionally work at a deep soul cleansing. Imagine how junk-filled David's soul must have been. He often seemed to make choices that were self-centered with little concern for God or others. Yet, David was self-aware at certain times to do his own spring cleaning. When his heart was the heaviest and messiest, David opened the garage doors of his heart and soul and ask God to do the heavy lifting. "Cleanse me with hyssop and I will be clean; wash me, and I will be whiter than snow. Create in me a pure heart, O God, and renew a steadfast spirit within me." (Psalm 51:7,10, NIV)
This year's spring and garage cleaning has already happened in our home. The spiritual decluttering is still happening, but I have a vision of a cleansed heart and renewed spirit that makes the work go easier. I am encouraged to intentionally put things in their proper place when possible. And, I am inviting God to do the hard work of cleansing my soul.
The opinions expressed in articles posted on Mosaic's website are those of the author and may not reflect the official policy of Mosaic Conference. Mosaic is a large conference, crossing ethnicities, geographies, generations, theologies, and politics. Each person can only speak for themselves; no one can represent "the conference." May God give us the grace to hear what the Spirit is speaking to us through people with whom we disagree and the humility and courage to love one another even when those disagreements can't be bridged.