For through him [Jesus] we both have access to the Father by one Spirit. Consequently, you are no longer foreigners and strangers, but fellow citizens with God's people and also members of his household, built on the foundation of the apostles and prophets, with Christ Jesus himself as the chief cornerstone. In him the whole building is joined together and rises to become a holy temple in the Lord. And in him you too are being built together to become a dwelling in which God lives by his Spirit.

Eph. 2:18-22, NIV 
In the body of Christ, there are no strangers, only fellow citizens of the Kingdom, brothers and sisters whom we have not met. In my new role as Associate Executive Minister, I recently visited California, to get to know some of our California congregations better. The brothers and sisters, pastors, and leaders of the Mosaic churches there welcomed us and each other with open arms and hearts.
We can know that we are welcomed and accepted by God. God showed us the ultimate hospitality by giving us access to the Father by one Spirit through Jesus Christ. Since we have all been welcomed in by Christ, we welcome each other in with love and grace.
Soon after I arrived on Friday night, about 20 of us enjoyed a meal of gratitude and fellowship together as we talked and learned to know more about each other and our families, lives, and ministries.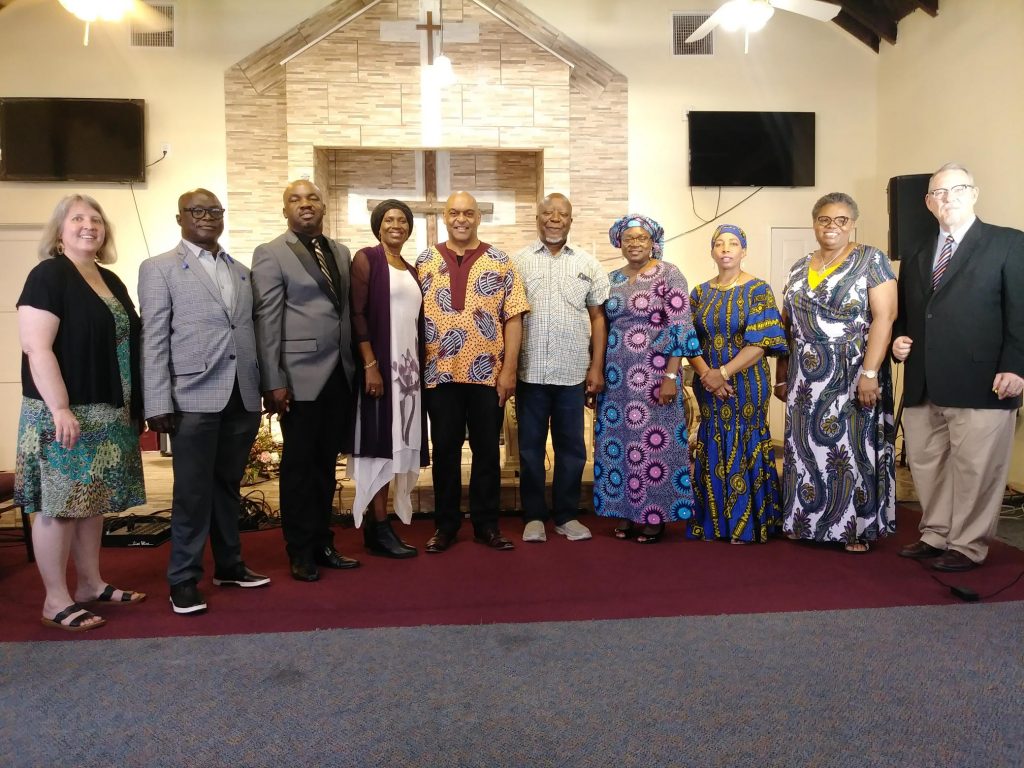 On Sunday morning, "Bishop" Jeff Wright, his wife, Debbie, and I worshipped and celebrated a full service at LA Faith Chapel together with a mostly Nigerian congregation. Lively, Spirit-filled worship songs kept our bodies moving and our voices raised in praise to God. Several young people sang a special song. We shared a time of blessing, prayer, and anointing for the seven leaders from the congregation who are in the credentialing and transfer process with Mosaic. A couple who had been married the previous day danced joyfully down the aisle as they gave thanks to God. After the service, we shared a delicious meal which featured "puff balls" (delicious balls of fried dough).
During my trip, I experienced a truly joyful mosaic experience of fellowship. We enjoyed a quick stop to celebrate a birthday lunch with Pastor Virgo at Jemaat Kristen Indonesia Anugerah (JKIA) in Sierra Madre, CA, breakfast with Pastor Jeff Wright and Makmur Halim, and a tour of the Joyful Music & Arts School in Los Angeles with Pastors George and Mukarabe Makinto with a bonus lunch overlooking the Pacific Ocean.
A shout out to Leadership Minister Jeff Wright for the relationships and connections that he has built over the years that have resulted in blessing and growth for pastors and churches. There were many words of affirmation and respect expressed for Jeff which I also echo. Thanks be to God!