The year 2020 will forever stand out. It was a year that changed both our world and our lives. The year 2020 was also the year that gave birth to a vision at our church – a Peace Garden. Mary Lou Cummings and the Ministry and Community Connections Teams at Perkasie (PA) Mennonite Church envisioned this place.
The dream and vision of the Peace Garden was a spot of natural beauty that would become a place of rest and peace to all in the community. People who drove or walked by could stop to smell the flowers, choose a book from the crafted book box, or sit and rest on the repurposed bench. This vision became especially significant as we lived through the first year of the pandemic. Being outdoors gave us an appreciation of the constancy and beauty of God's creation, and experiencing nature's constant movement, even with the many unknowns, gave us a sense of security and encouragement.
Early in the life of this garden, as I finished working in the Peace Garden one afternoon, there were a few passers-by that made some lovely comments. Their comments helped us to realize how this little, and as yet incomplete, garden was already inspiring our local community. During lockdown and social distancing, we still had a way of reaching out to others.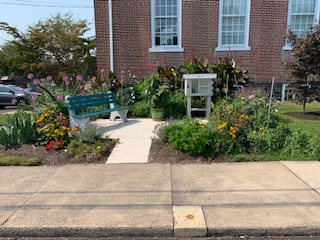 The crafted book box, which is now part of the Little Free Library network, was repurposed and placed early in the life of this project. A diligent team's vision and purpose are to keep it stocked with books that are welcoming, portraying justice and diversity.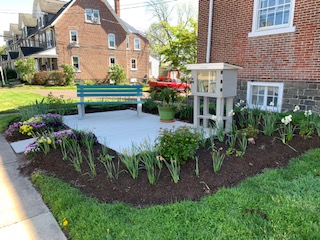 After working in the garden on a Thursday afternoon, in the fall of 2020, I brought my grandkids to see the place. They asked if we could walk on the patio, choose books, and sit on the bench. There were four or five youngsters on bikes who came up as we did this, waiting until we were done. These school-aged children carefully discussed how to open the book box safely, Covid-style, and collaboratively decided to use their T-shirt ends to handle the latch!
As we continued to work in the garden over the next many months, preparing the beds, turning the soil, and planting, we were greeted and encouraged by people walking by. There seemed to be an overall feeling of gratefulness and thanks from our neighbors.
A woman who was on a walk, stopped to chat and admire how the garden was coming along, saying that it was a great idea.
A young man who was walking his dog came to donate a book. He told me how he had donated some other books recently when he noticed the box was empty and encouraged his wife to stop by and enjoy the garden too. He also shared his knowledge of many other free library boxes in the community but stated that he likes the fact that this one has a bench where you can sit, choose a book, and enjoy.
A grade school-aged girl on her bike, shouted, "Hi," as I was working one day. As I looked up and responded, she smiled. As she rode away, she said, "You know, I come here every day to do my homework. I'll probably see you again!"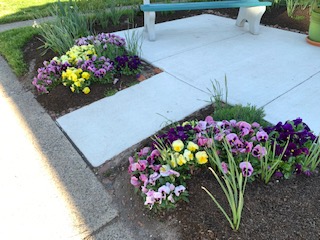 "You know, I come here every day to do my homework. I'll probably see you again!" 
This spring, a Peace Pole will finally be added to our little garden. Long-awaited, it will stand strong, declaring peace, love and justice for all.