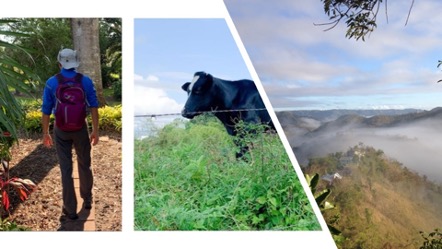 My friend, Jorge, and I had been climbing the Sierra Nevada de Santa Marta in Colombia for more than six hours. The rolls of bread we bought in the early morning were now battered and hard as a stone; we decided to throw them away. We hoped to soon find a place to buy food and water.
The road up the mountain was lonely, and we couldn't find any place to stock up on water and food. Soon it was dark, and we couldn't see the road. We found an abandoned house, desolate, without doors or windows. We spent the night on the floor of that house. We were hungry and thirsty. We regretted having thrown away the stale bread that would have turned into a feast. As the saying goes, "With hunger, there is no stale bread."
In the early morning darkness, I was awakened to giant eyes staring at me, embedded in a horrible, horned face only half a meter away. I stuck my head through the window. I let out a cry of terror that woke up my friend Jorge and echoed through the mountain. The face with the giant eyes that were watching me opened its mouth and emitted a low, "Mooo," as hideous as my scream. The cow and I were terrified of each other. All three of us experienced a tremendous terror.
After the terror of the encounter with the cow, the first rays of the sun were beginning to appear. In the distance, far down the mountain, we saw smoke rising from what looked like a house. We went down to find peasants who offered us two large cups of coffee, sweetened with sugar cane molasses. This sweet coffee gave us enough energy to continue on our way.
I was 17 years old when this story happened. Throughout my life, I have thought of this story as I reflected on the Lord's prayer, especially "Lord, give us today our daily bread."
I recently learned that a high percentage of US households throw away approximately $100 worth of food in good condition, each month. This food, bought in excess and then thrown away while still viable, is worth approximately $1,200/year. As a result, my wife and I made the decision to not buy food in excess. We prefer to visit the supermarket more frequently and consume the food we buy, so that little goes to waste.
The opinions expressed in articles posted on Mosaic's website are those of the author and may not reflect the official policy of Mosaic Conference. Mosaic is a large conference, crossing ethnicities, geographies, generations, theologies, and politics. Each person can only speak for themselves; no one can represent "the conference." May God give us the grace to hear what the Spirit is speaking to us through people with whom we disagree and the humility and courage to love one another even when those disagreements can't be bridged.
This post is also available in: Español (Spanish)
This post is also available in: Español (Spanish)