a thank you note from Ripple Community Inc.
As 2020 has merged seamlessly into 2021, it's almost difficult for us to remember what life was like at Ripple Community Inc (RCI) in Allentown, PA before COVID-19. There were fewer masks, more volunteers, and different ways of being together. Many things have changed – if not for good, at least for the foreseeable future.
It is no overstatement to say that the generous support of the Shalom Fund has gotten us through this extremely challenging time. When it first became clear that the pandemic was here and spreading fast, so many of the services and supports our community members rely on simply shut down. Very suddenly, there was a shortage of meals, restrooms, water, and overnight shelter. As an organization, we made the decision early on that we would continue to stay open – in close communication with our local health bureau – to meet the needs of our unsheltered friends and neighbors.
Your generosity has allowed us to make good on that promise, for 14 months and counting.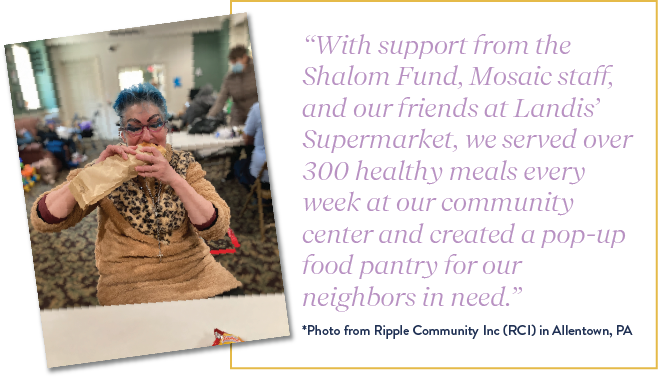 With support from the Shalom Fund, Mosaic staff, and our friends at Landis' Supermarket, we served over 300 healthy meals every week at our community center and created a pop-up food pantry for our neighbors in need.
When it became clear that we needed to increase the size of our staff to continue to serve our community well, the Shalom Fund supported the creation of our Community Services Coordinator staff position. That position, in turn, helped us facilitate tele-health and tele-psychiatry appointments, Alcoholics Anonymous meetings, and other critical, and otherwise unavailable, services at our community center. More recently, the fund has allowed us to serve hot meals on Sunday evenings and provide snacks that help ensure our unsheltered friends don't have to go without.
There are truly no words to express our gratitude for the many ways in which the Mosaic community has supported RCI over the past year. Because of you, there is always enough: enough good food, enough care, enough friendship and community. We lost count of the number of times we received a phone call from the Mosaic Conference that began with, "What do you need?" and ended with "We can do that." What an extraordinary manifestation of the love of Jesus.
Because of your generosity, the Shalom Fund has grown beyond our expectations this year.
Together, we've raised nearly $185,000 toward our goal of $200,000, enabling Mosaic to respond to diverse needs for support, impacting hundreds of families through congregations and conference related ministries.