Publicado en: PROTESTANTE DIGITAL – Kairós y Cronos – El Reino de Dios, política y ciudadanía. Entrevista con César García (II)
Translated to English by Andres Castillo.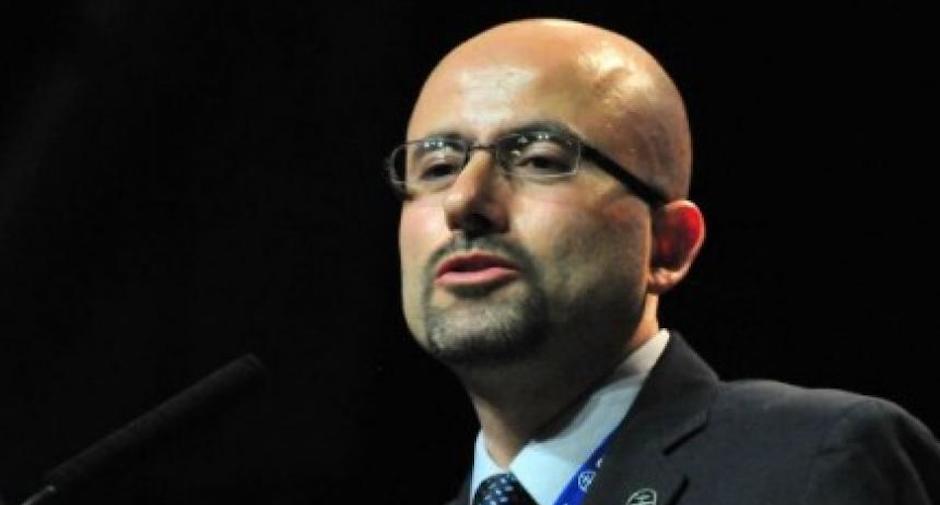 We continue the conversation with César García, General Secretary of Mennonite World Conference, about his book What Is God's Kingdom and What Does Citizenship Look Like? (Herald Press, Harrisonburg, Virginia, 2021). MWC is not only formed by Mennonite churches, but also includes other Anabaptist communities.
Q: César, based on what you said in the first part of our conversation, would you say that the Gospel has economic dimensions?
A: The word "Mammon" comes from Aramaic, transliterated to Greek in the New Testament and only used four times by Jesus to mean wealth, money, or riches. By analyzing what Jesus says about Mammon in Matthew 6, we can come to understand how the economy of Mammon is different and even contrary to the Kingdom of God. "You cannot serve both God and Mammon." Let's start with a look at how Jesus talked about money. By creating this character, he warns us of the possibility that God competes with another master in our lives: material possessions. Possessions can enslave us, creating confusion about our purpose, source of happiness, and safety.
Q: What you've told me reminds me of anabaptist theologian Ronald Sider's Rich Christians in an Age of Hunger: Moving from Affluence to Generosity. How do the teachings of Jesus about not giving in to Mammon come together for Mennonites and Anabaptists?
A: From an Anabaptist perspective, the uncontrollable desire to possess things drives us to sin, but the Spirit of God frees us to practice helping mutually. What I've described here as the economy of God requires a significant change in our paradigms. Getting to the point where we limit ourselves for the common good is a miracle, but that's exactly what our world needs. Nations search desperately for alternatives to consumerism due to the harm it's causing to our planet. Economists today propose strategies of political control if we want to survive as human beings. There is more consciousness of the need to restrict our insatiable way of life to recuperate the health of the planet. Curiously, Anabaptists have been teaching this for centuries, what we simply call "a way of life" due to spiritual discipline. That spiritual discipline teaches us, among other things, to:
Choose things based on their function rather than the social status they might reward us with.
Reject anything that causes addiction.
Enjoy things without owning them.
Avoid using credit as much as possible.
Refuse things that are the product of the oppression of others.
Appreciate and take care of God's creation.
Practice generosity.
Q: Changing the subject a bit, what can Christians do to influence society?
A: As Christians know, the church is called to carry the message of reconciliation with God and among human beings. However, the way the message is told has not always been consistent with the results we are looking for. When we analyze the history of the church, we can identify various ways in which the church has responded to this responsibility, various forms in which the church has played a role understood as a people of reconciliation facing society.
The first focus can be called conversionist. It has to do with the belief that the only thing we have to do in order to transform society is put a few Christians in positions of power.
The second option, which can be called transformationalist, seeks to transform society by changing power structures with the implementation of Christian values.
A third option, the separatist impulse, has to do with distancing oneself from society while rejecting any possibility of fundamental societal transformation.
I'd like to suggest here that, from an Anabaptist perspective, there is another possibility. This possibility seeks to encourage societal transformation through the promotion of healthy understandings of religious freedom from the margins of society.
Q: Would you please explain this other possibility?
A: In the Anabaptist tradition, the nature itself of the church requires the separation of church and state. Given that faith cannot be forced, religious freedom is necessary to guarantee the possibility that the faith springs up. The voluntary decision to follow Christ is evident through baptism, the point of entry to the church. That implies that the church is formed by believers that have decided to voluntarily form a new community—that of the Kingdom of God. This way of understanding the Christian faith and the church demands liberty to choose our own beliefs, values, and ethics. It also implies that there will be people who will choose to not follow Christ. The possibility of saying no to the faith and to Christian values must exist in order to assure that there is an alternative community to that of this world.
Q: Religious freedom, therefore, is not a synonym of using the power of the state to "christianize" society. What is it?
A: Religious freedom avoids the temptation to depend on human governments to promote the faith, values, or ways of life of Christians. Seeking ways to obtain legal privileges for our own religious group that are higher than those of others is fundamentally incompatible with this perspective. Religious freedom implies the possibility to choose between different beliefs or none, between Christian ethics and others. The policies and values of the Kingdom of God must only be accepted voluntarily by a society through a process of genuine interaction that includes people of other religions as well as those without faith. Christian ethics must present themselves convincingly, with arguments so persuasive that communities of people of different beliefs implement them as a response to their own beliefs, not by force. Laws that reflect Christian values must be determined through dialogue, negotiation, and consensus among people who don't share the same faith.
From this comes the conclusion that one of the first ways in which the Christian community influences the society that surrounds it has to do with letting all voices be heard, even those that oppose it. Followers of Christ must stand up for the inclusion of people of other religions and people without faith in the establishment of rules for society. Governments govern for all, not only for Christians. God isn't interested in coercing people into behaving in ways that aren't the results of beliefs. Christian ethics—a life that reflects the transforming gift of the grace of God in a Christian disciple—is not for Buddhists, Muslims, Jews, or those without faith; but rather, for the followers of Christ.
Q: Today in Latin America, there is a growing temptation to be imposing, to believe that it is necessary to make laws that punish those who don't follow the rules they consider to be Christian. What do you think of this?
A: Influencing within our society in ways that don't respect religious freedom, that don't allow people to choose their own lifestyle, will side us with those who throw stones. It will make us oppressors instead of oppressed. It will make us act in a way that will paralyze others with fear.
The opinions expressed in articles posted on Mosaic's website are those of the author and may not reflect the official policy of Mosaic Conference. Mosaic is a large conference, crossing ethnicities, geographies, generations, theologies, and politics. Each person can only speak for themselves; no one can represent "the conference." May God give us the grace to hear what the Spirit is speaking to us through people with whom we disagree and the humility and courage to love one another even when those disagreements can't be bridged.
This post is also available in: Español (Spanish)
This post is also available in: Español (Spanish)