"Take it easy" was the last thing I heard Adamino Ortiz say to me over the telephone. Whether he meant to calm me or wish me luck in his own Puerto Rican style, I was left with doubt. There was a certain irony about it. Learning more about this man, who always seems more active and hardworking than ever, more of a protagonist than ever, a man who never truly retires; makes it hard to believe that he really means those words—"take it easy."
The Passing of Two Wives
Whether or not it was irony that came from his mouth, it is certain that he has had to take it easy in many difficult, crucial moments. The passing of two wives, being let go from the architecture company where he finally found footing in the United States, and a lack of initial accommodation in a Christian church are some. Apart from these isolated occurrences of "taking it easy," his journey as a whole tells a different story.
Adamino Ortiz is one of the latinos who has made a name for himself in Pennsylvania through his work. He has shared a table with governors, been recognized by human rights organizations, and by the state itself. It seems that he has always helped develop new programs or lines of action that help diminish the needs of latino immigrants who need the most help in his area—all as a result of long years of work, collaboration with teams, and an anointed, laborious vocation.
Puerto Rican of the Purest Strain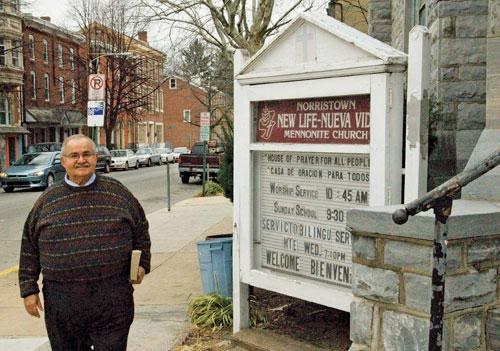 He is a Puerto Rican of the purest strain from a methodist background, able draftsman of engineering and architecture, and conscientious objector in his youth. At age 29, he moved to the United States as an answer to a letter from his older brother, who, already living in the States, invited him to come as well. Adamino accepted, and in a short time traveled to the northeast of the country.
In The Mennonite, readers will find a detailed article from March 2011 about Adamino's life with the title "Organizer Extraordinaire for God." It is a summary of his professional life and his journey as a christian, which he has been on for the last few decades with the Mennonite church, giving us years of service and brotherhood.
God has Brought you with a Purpose
The Mennonite's article tells that a retired North American missionary who served in Costa Rica, John Lenko, told Adamino once: "God has brought you with a purpose."
When Adamino was let go after seven years of work as a result of staff cuts in the architecture company he worked for, he stopped his job search participating in the start of an ambitious project that would help immigrants in Pottstown, PA called ACLAMO (Latin-American Communal Action of Montgomery County).
For Adamino, this job became his ministry. "I served the Lord by helping the community," he states. While it only dealt with cultural programs at the beginning, he helped to implement areas oriented toward social services. To meet this objective he started at the ground level, taking a census of hispanic people in the county—around 10,000 people.
The organization dedicated itself to offering social services, among those the connection of immigrants with job opportunities, teaching English, healthcare connections, basic education for children, and help for the elderly with social security. Adamino's vision was even bigger. He understood that immigrants also had spiritual needs, and for that reason he tried to link his services with ministry.
Today, ACLAMO continues its work years after Adamino stepped down as its director. The organization continues helping latino immigrants and has even increased its services and area of action, with offices now in Norristown as well as Pottstown.
The opinions expressed in articles posted on Mosaic's website are those of the author and may not reflect the official policy of Mosaic Conference. Mosaic is a large conference, crossing ethnicities, geographies, generations, theologies, and politics. Each person can only speak for themselves; no one can represent "the conference." May God give us the grace to hear what the Spirit is speaking to us through people with whom we disagree and the humility and courage to love one another even when those disagreements can't be bridged.
This post is also available in: Español (Spanish)
This post is also available in: Español (Spanish)