Two exciting new events are coming from the Mosaic Intercultural Team!
Mosaic Conference Webinar Interview with author, Dr. Drew Hart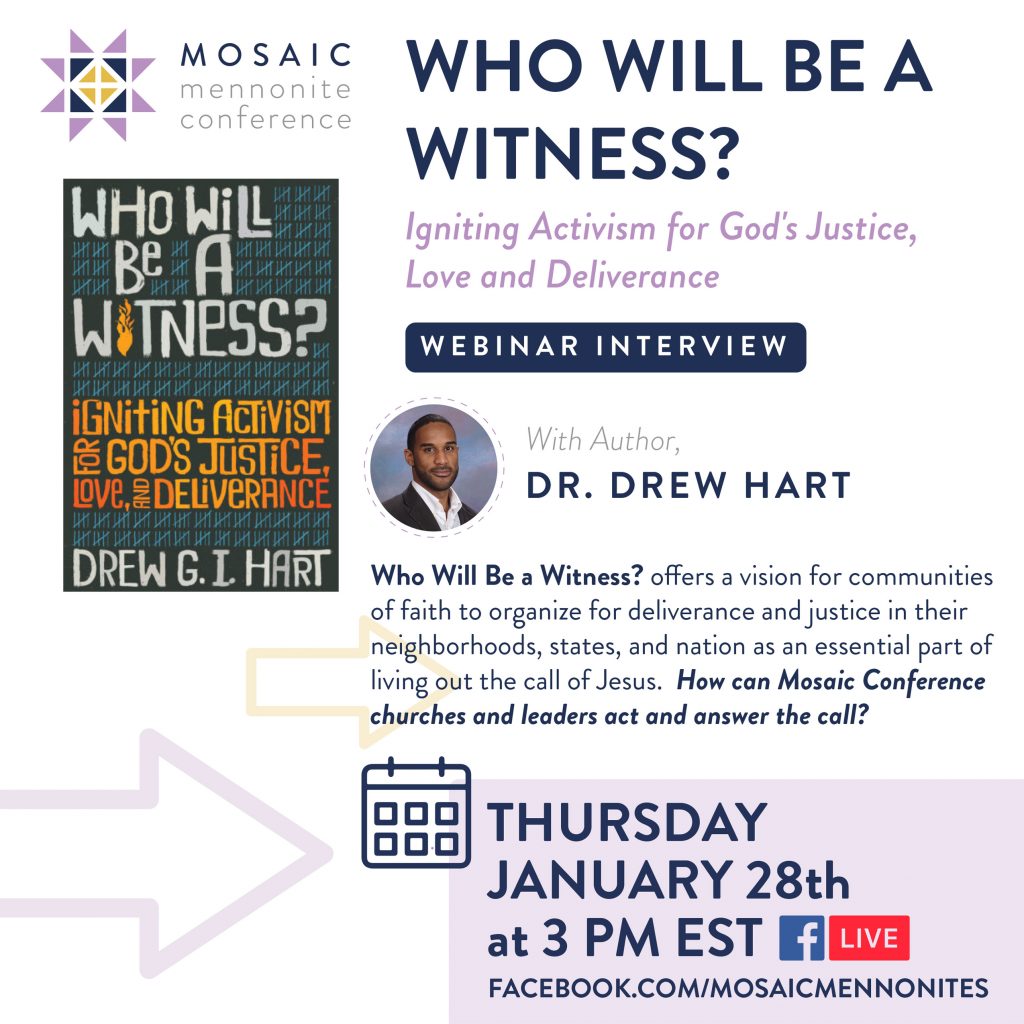 Dr. Drew Hart's newest book project is entitled Who Will Be a Witness?: Igniting Activism for God's Justice, Love, and Deliverance and was published September 1, 2020.
Who Will Be a Witness? offers a vision for communities of faith to organize for deliverance and justice in their neighborhoods, states, and nation as an essential part of living out the call of Jesus. How can Mosaic Conference churches and leaders act and answer the call?
Join us as we talk with Dr. Drew Hart about this important topic and find ways each of us can live out the call of Jesus.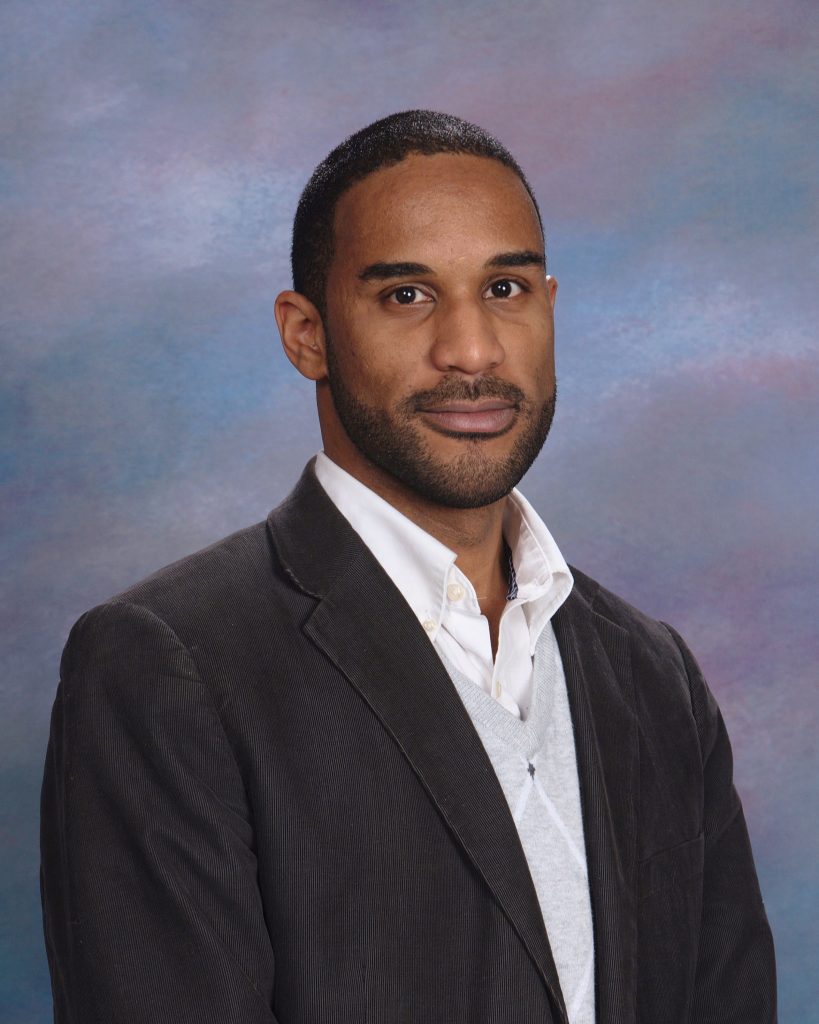 Dr. Hart was the recipient of bcmPEACE's 2017 Peacemaker Award and was honored locally with the 2019 W.E.B. Du Bois Award in recognition of his commitment and work for justice locally and nationally. He was chosen as Elizabethtown College's 2019 Peace Fellow. Dr. Hart and his family live in Harrisburg, PA and attend Harrisburg First Church of the Brethren.
Book Study Groups (via Zoom) for Mosaic Pastors & Leaders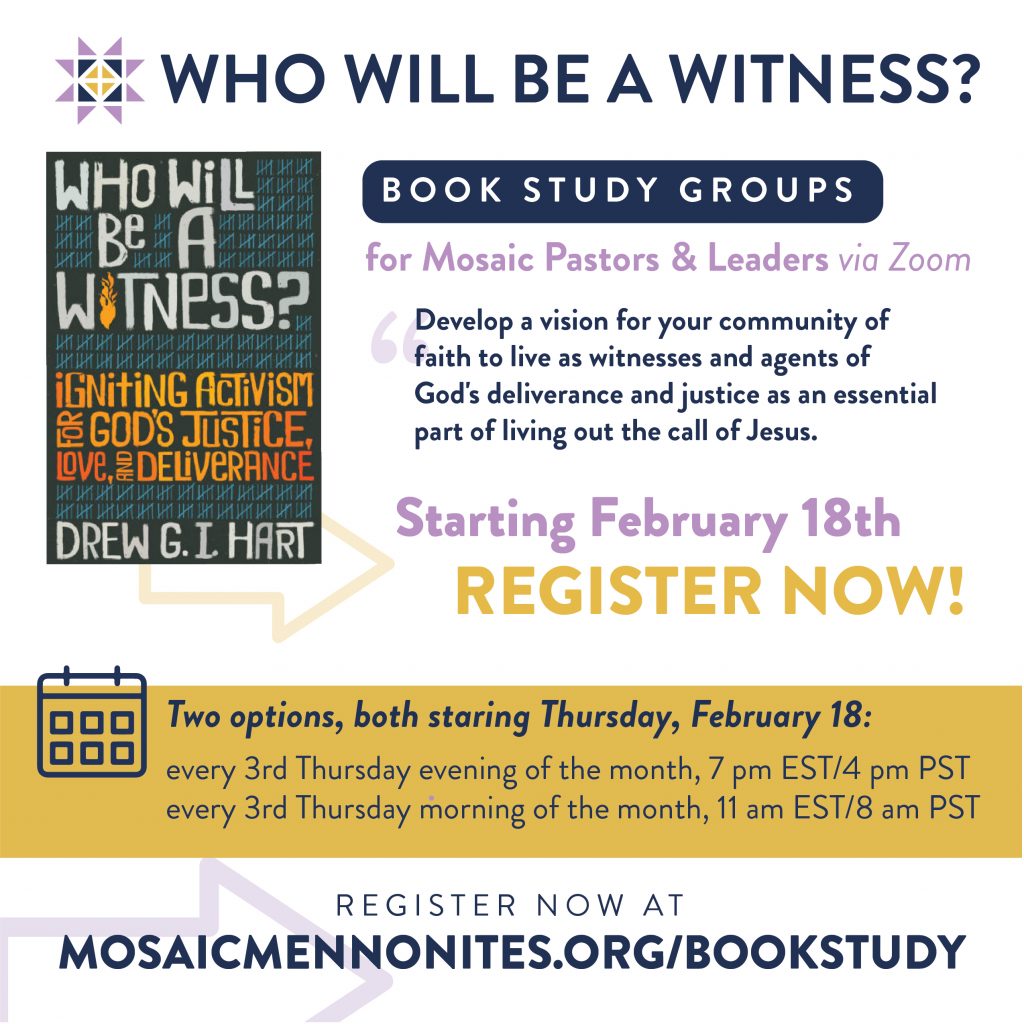 Develop a vision for your community of faith to live as witnesses and agents of God's deliverance and justice as an essential part of living out the call of Jesus.
Pastors and leaders are invited to register and join the conference intercultural team (Hendy, Marta, Danilo, and Jaye) for a book study group. Groups will read and discuss the book, Who Will be a Witness?, by Dr. Drew Hart, over five monthly sessions using the study guide by Terrance Hawkins.
Two options, both staring Thursday, February 18:
3rd Thursday evening of the month, 7 pm EST/4 pm PST
3rd Thursday morning of the month, 11 am EST/8 am PST
The opinions expressed in articles posted on Mosaic's website are those of the author and may not reflect the official policy of Mosaic Conference. Mosaic is a large conference, crossing ethnicities, geographies, generations, theologies, and politics. Each person can only speak for themselves; no one can represent "the conference." May God give us the grace to hear what the Spirit is speaking to us through people with whom we disagree and the humility and courage to love one another even when those disagreements can't be bridged.