The Material Resource Center (MRC) of Harleysville (PA) works alongside Mennonite Central Committee (MCC) to share God's love and message of peace with people suffering from poverty, oppression, natural disasters, and war. This Material Resource Center is a Conference Related Ministry (CRM) of Mosaic Conference.
Founded in 2003, the MRC moved to Souderton, PA in 2010. The center is located just off Schoolhouse Road, between Harleysville and Souderton. A three-day MCC meat canning event takes place here in the spring each year. 
Darning Egg Gifts is also located in the MRC building. Items such as hand-loomed rugs, comforters, aprons, items for babies, pillows, and home decorating items are handmade or repurposed. All items, donated by the creative artisans, are perfect gifts for many occasions. Sales from Darning Egg Gifts support the work of MRC.
Volunteers of all ages, and many faith backgrounds, contribute to the goal of supporting MCC's work in the following ways:
checking and packing kits
cutting and sewing patches for comforters
cutting and sewing kit bags
quilting by hand and machine
knotting comforters
cutting and packing discarded T-shirts for sale as rags
sorting and baling excess items from Care and Share Thrift Shoppes
baling cardboard for recycling
weaving rugs from strips cut from jeans and corduroy pants
making unique gift items for Darning Egg Gifts
assisting with office work
Because of COVID-19, the need for hygiene supplies and other materials that MRC sends worldwide have been in high demand. MRC volunteers have adapted to new ways of working at the center, with temperature checks, mask wearing, and social distancing.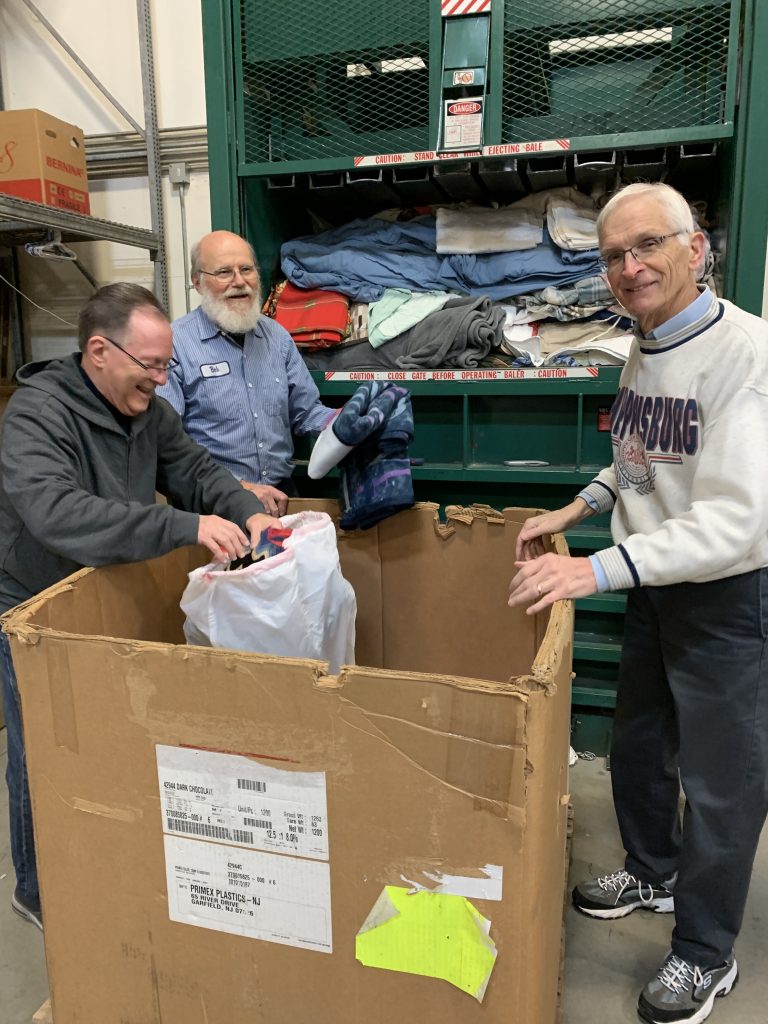 Donations of items for school kits, relief kits, and hygiene kits are appreciated (see our website for lists of kit contents) as well as fabrics for making drawstring bags and comforters. Cardboard and T-shirts can also be dropped off for recycling. Cardboard is baled in the warehouse and sold to a paper company. T-shirts that are 100% cotton are cut into pieces and sold as rags.
Monetary donations are also greatly appreciated and can be sent by check or given securely on the website.
Visit us at:
MCC Material Resource Center, 737 Hagey Center Dr., Unit C, Souderton, PA 18964, phone 267-203-8074; mcc-harleysville.org; facebook.com/mccmrc