The Miraculous Church Building
Editor's Note: Mosaic Mennonite Conference anticipates welcoming eight Florida congregations (that were formerly part of Southeast Mennonite Conference) at this fall's conference assembly. Iglesia Menonite Luz y Verdad is one of the eight congregations.
Iglesia Menonita Luz y Verdad (Light and Truth Mennonite Church) is located in Lakeland, Florida. The church began as a result of a joint effort between the Mennonite Church of College Hill in Tampa, FL and Southeast Mennonite Conference.
Lydia de Jesus is the second pastor in the history of the church. Pastor Lydia and her husband were founding members and very active in the programs and life of the church. When the founding pastor concluded his responsibilities with the congregation, Pastor Lydia was called as the leader and later as the pastor. With the help of the conference and other church leaders, she was trained in pastoral ministry.
As pastor, Pastor Lydia's primary ministry is serving this community with the ministry of evangelization, Bible study, and visitation in homes and hospitals. She is currently the only female pastor in Florida with ministerial credentials in Mosaic Conference.
In the beginning, the church moved locations regularly, as it did not have its own building to call home. "The Luz y Verdad Hispanic Mennonite Church building is a miracle from God," said Pastor Lydia De Jesus. In March 2014, the church was a small congregation of about 30 people. The congregation purchased an abandoned warehouse for $95,000.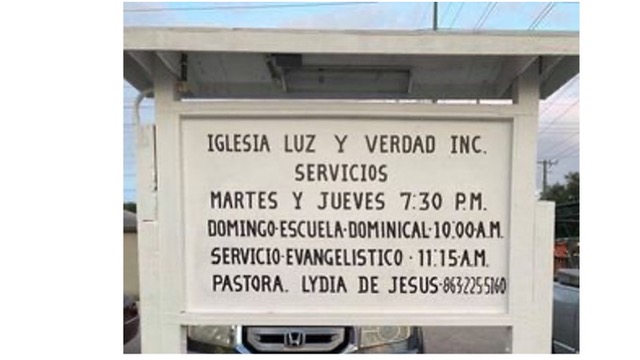 In order to pay for the building and the renovations needed, the congregation collected a down payment of $9,500 from its members and had a special fundraiser, selling Puerto Rican food. They also raised another $40,000 for remodeling and construction, including an AC unit. Labor, valued at $30,000, was donated by church members. The church also received a grant in the amount of $17,425 from JoinHands, a resource sharing ministry of Mennonite Men.
Through hard work, generosity, and prayer, the abandoned warehouse was transformed into a wonderful worship place. The image of the neighborhood became more positive after the presence of the new church. Today, other church groups rent the building for their worship services and other activities. For the members of Luz y Verdad, the church building is indeed a miracle.
The vision and mission of the church are to reach out with the Gospel of Christ to people who do not know him as their personal savior, baptizing them, and making them disciples of the Lord. Another mission is to use the church building for the worship of God and offer community services. Finally, the church desires to be a beacon of light with the message of Jesus for all people in need of salvation, economic needs, health, and substance addiction.
The community where the church is located is low-income with many basic needs. The Hispanic population is very diverse, with the majority from Puerto Rico and the Dominican Republic. These demographics are also similarly represented in the church
This post is also available in: Español (Spanish)