"We know that all things work together for good for those who love God" (Romans 8:28a, NRSV) is a familiar scripture quoted often by Christians, but is it realistic? I don't know how many Christians actually experience this verse, but it has been so precious for me to witness God's blessings through this scripture during this uncertain time. And, the blessings haven't stopped.
COVID-19 has turned the world upside down and also God's ministries. There is a favorite children's song that goes, "Count your blessings, name them one by one!" My version of that song is, "Countless blessings!" I am counting virtual worship and Bible studies as blessings because of the pandemic.
Since the stay-at-home order was announced in San Francisco on March 15, churches stopped meeting in person. I was grateful that God gave me wisdom, strength, and a wonderful daughter, Sharon. Together, Sharon and I worked diligently through many obstacles and finally created our first YouTube worship on March 29.
On a regular Sunday morning (before COVID-19), we typically have a few dozen participants in attendance for our worship. Our first YouTube worship service had over 360 views. I believe the reason was because there were not many Chinese churches in North America ready to worship online at the time. Now, we still have approximately 150 views each Sunday. We are extremely thankful!
Our Bible studies, First Tuesdays and Fridays, also had, prior to COVID-19, around 10-13 people each time. With God's grace and promise from Psalm 126:5, "Those who sow with tears will reap with songs of joy," (NIV) we have experienced God's blessings when we see the numbers of our Zoom Bible study attendance continuing to increase. Now, we have more than 30 people and expect more.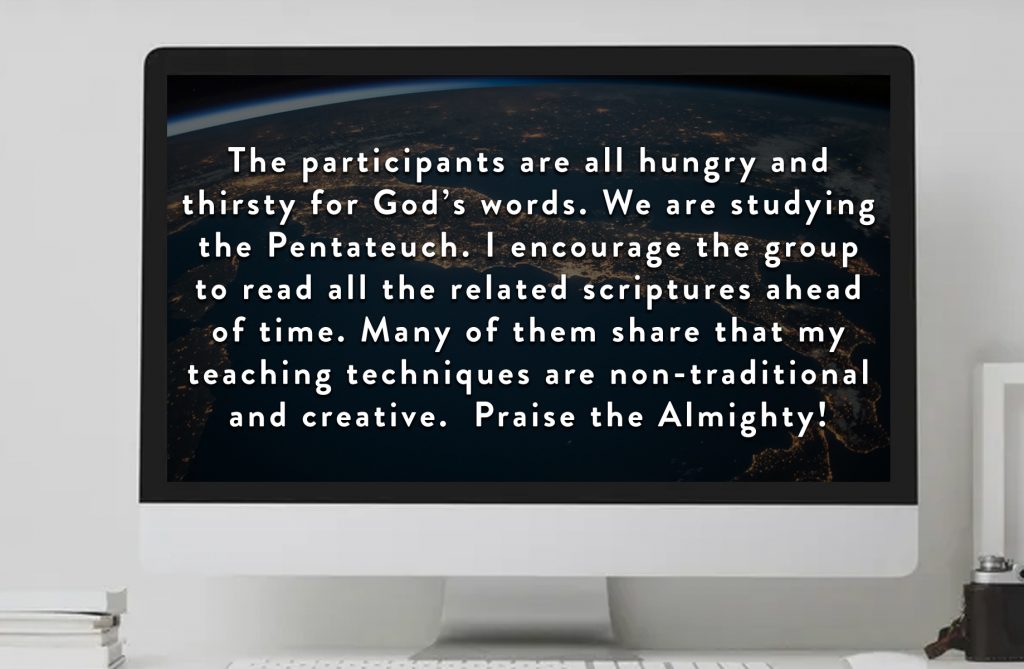 The participants are all hungry and thirsty for God's words. We are studying the Pentateuch. I encourage the group to read all the related scriptures ahead of time. Many of them share that my teaching techniques are non-traditional and creative. Praise the Almighty!
In only a short period of time, God has already opened my eyes to see many blessings through our Zoom Bible studies:
A person from the Bible study group texted me late one night and asked me a theology question, I woke up at 4:30am and answered his questions. Both of us were excited and inspired. This person even recorded our Bible studies, made copies, and blessed others too.
A nurse who lives not too far away attended our Zoom Bible studies and made the decision to follow Jesus. She was so eager to learn more that she even asked to come to my house to have special tutoring. Praise the Lord!
Susan Young from the Bible study group donated a new tripod and a new computer to ease our workload. My daughter no longer needs to work at her friend's house for long hours. God knew our financial and physical needs and provided.
The Holy Spirit didn't only move the hearts of people outside our church but also among our own congregants. On September 27, six people who have been attending our church for two to ten years officially transferred their memberships to be part of Mosaic Conference To God, all praise and glory!
Joyful tears come to my eyes as I experience God's grace over and over in times of difficulties. We appreciate all the support from Mosaic Conference. Please continue to pray for us and come and visit us.
May God bless you all!
This post is also available in: 繁體中文 (Traditional Chinese)