Fairfield (PA) Mennonite Church is a place of hope and healing where people from diverse backgrounds seek together "to do justice, love mercy and walk humbly with your God" (Micah 6:8).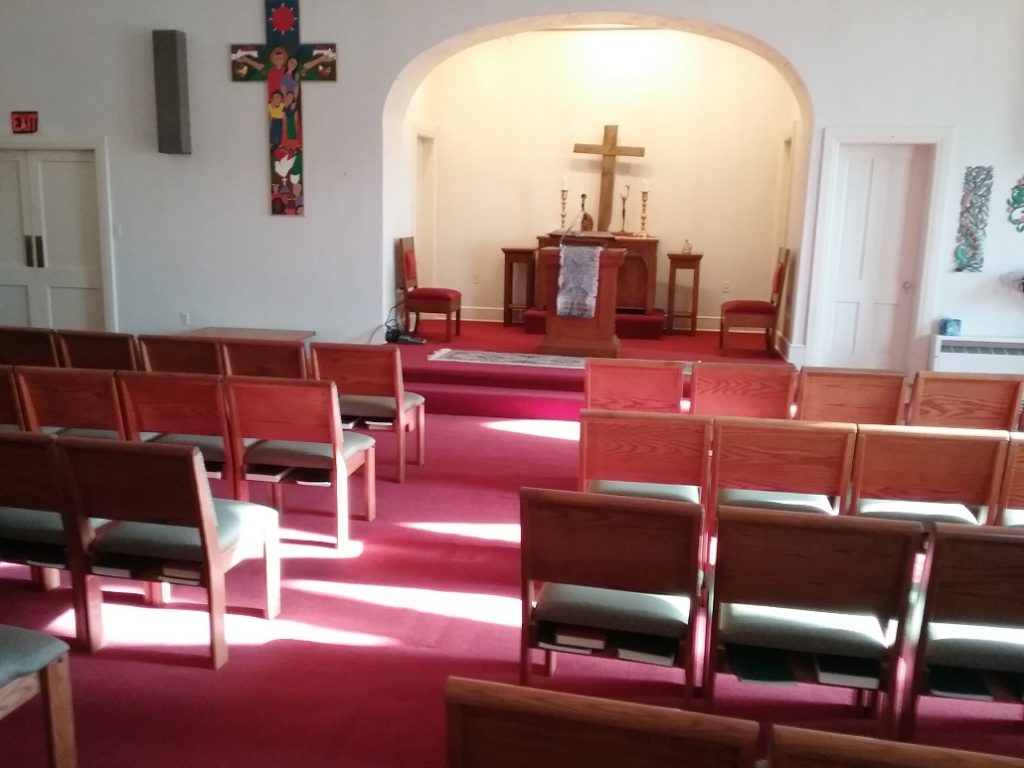 Founded in 1927, the church founders, formerly members of Mummasburg Mennonite Church, had more "progressive" views on issues such as education, insurance, dress, and Sunday School and sought to begin a new congregation in Fairfield, PA.
From the beginning, Fairfield Mennonite has been committed to serving the local community and world. Throughout the years, our members have been instrumental in creating and supporting local agencies through serving on many local boards and volunteering.
The Fairfield Food Pantry began inside the church in 1971 to serve local families in need of a hand-up. As the needs of residents in Fairfield and surrounding communities increased, so did the need for more space for the Pantry, so a shed was placed outdoors. Again, in 2006, the need for more space continued, and our current shed was built. To learn more about the Pantry, please visit and like The Pantry Facebook Page: www.facebook.com/FairfieldPALocalPantry/
The first International Gift Festival, held in November 1961 at our church, was the brainchild of Ruth Musselman and the Ladies Service Guild in cooperation with Edna Ruth Byler. Edna Ruth Byler initiated the idea of a jobs creation program within the Mennonite Church and saw the Gift Festival as a new way of marketing her projects and training individuals in other churches wanting to hold their own sales. In this way, Fairfield Mennonite played a significant role in helping to birth what is now Ten Thousand Villages. Pending the status of COVID-19, our 60th International Gift Festival and Sale is scheduled for November 10-14, 2020.
As a church, we seek to be inclusive in our worship and service, recognizing the wisdom of many faith traditions and welcoming everyone in the spirit of Jesus. In doing so, we hope to break down barriers that divide us from each other so that we may unite in faith through service to the world.
We at Fairfield Mennonite share a vision of following Jesus, being accountable to each other and try to agree to disagree in love. We believe that peace and forgiveness are not just possible, but an integral part of following Jesus. We are people from many different walks of life, educational levels, professions, and religious backgrounds who value community and family. We focus on participation, not membership. We value the free expression of ideas and questions about the meaning of life. And, we love music and food!
Please pray that we at Fairfield Mennonite Church will be open to hear and follow the Spirit's leading on how best to bring the light and good news of Jesus to individuals, families, our broken communities, nation, and world.
The opinions expressed in articles posted on Mosaic's website are those of the author and may not reflect the official policy of Mosaic Conference. Mosaic is a large conference, crossing ethnicities, geographies, generations, theologies, and politics. Each person can only speak for themselves; no one can represent "the conference." May God give us the grace to hear what the Spirit is speaking to us through people with whom we disagree and the humility and courage to love one another even when those disagreements can't be bridged.