by Dorrie Mininger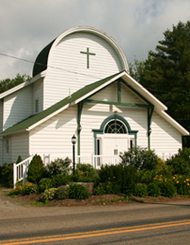 Lakeview Mennonite Church is one of the more remote outposts of Franconia Conference. It is located in the hills of rural northeastern PA and began in the 50's when several young, adventurous Mennonite families moved up here to farm and plant a church.
Seven years ago, our most recent pastor and his wife were called to another church after 16 years at Lakeview. We were left pastor-less.
Through the ministry of an interim pastor we decided to be officially "Congregationally Led". This is how it runs: We have a rotation of speakers which include a pastor from a Wesleyan church in the Binghamton, NY area, one of our own members and a Catholic nun! On months when there is a fifth Sunday, somebody from conference has been coming up to speak for the past year.
The New York pastor is available for counseling and another local pastor visits people in our community and congregation who are sick or struggling. Members of our worship committee rotate and take turns leading worship. Our music is varied, ranging from traditional a Capella hymns with 4-part harmony to contemporary praise and worship music. Our members are about 50% local people and about 50% people who travel at least a half an hour because they want to attend a Mennonite Church.
One of the concerns with our current arrangement is losing our Mennonite connections, so we are thankful for having a conference speaker every 3 months or so. Interestingly, the Catholic nun has been intrigued by the Anabaptist perspective and has often brought messages that focus on the teachings of Menno Simons and others.
We have many outreaches to our community. Sixty-some years ago, our church started out with a two-week Vacation Bible School (with help from "down state" Mennonites). Our Sunday School is small but mighty and we continue to have a not-very-big, but growing 1-week VBS each summer.
Because we don't have the expense of a pastor's salary, we do have funds to help people in the community in need. When our members learn of somebody in difficulties, they feel free to bring these situations to our council to see what we can do to help. Often the gift of money or purchasing basic necessities (for instance, heating fuel) is just the needed boost. We also do things like having wood cutting parties to help neighbors who can't do it themselves.
A couple years ago, several of our members decided it would be good to start a Christ-centered 12 step program called Celebrate Recovery. Because of our small numbers we have joined with people from several other churches in the community to do this. We launched the program in September of 2018 and are praising God for lives being changed (including ours) in the town of Susquehanna.
A few months ago, Steve Kriss encouraged us to consider hiring a part-time pastor. As we discussed this, we were very reluctant to abandon the people that had helped us so much through the past 5 years by bringing good messages, visiting and counseling. We are discerning together what that might mean into the future.
Thank you for offering to pray for us! We think this is a critical time for us but also very exciting time. Is the Holy Spirit up to something? We think so! Your prayers are greatly appreciated.
The opinions expressed in articles posted on Mosaic's website are those of the author and may not reflect the official policy of Mosaic Conference. Mosaic is a large conference, crossing ethnicities, geographies, generations, theologies, and politics. Each person can only speak for themselves; no one can represent "the conference." May God give us the grace to hear what the Spirit is speaking to us through people with whom we disagree and the humility and courage to love one another even when those disagreements can't be bridged.